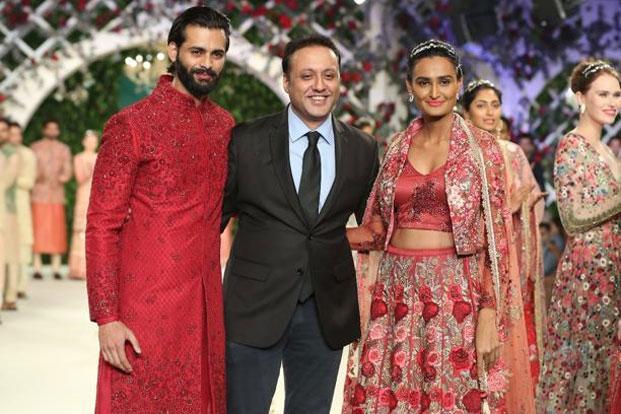 Indian audiences are usually unreflective when it comes to embroidery. There is so much of it around us—on cushion covers, in home linen, in our mother's closets, in the shawls most of us acquire by way of family hand-me-downs, in the visuals that beam out from wedding photographs or from our myriad experiences at crafts bazaars and local markets—that we somehow become immune to embroidery. We love it of course; Indian women are particularly fixated with embroidery, even emotional about it and the fashion and retail ecosystem recognises the role embroidery plays in the consumer's quest for beauty expected from fashion.
That's why the work of our couturiers has been so widely recognised—J.J. Valaya, Rohit Bal, Tarun Tahiliani, Abu Jani-Sandeep Khosla, Anamika Khanna, Sabyasachi Mukherjee to name some, or even prêt designers like Pankaj and Nidhi, Aneeth Arora, Swati Kalsi or Ashdeen Lilaowala.
Click here for enlarge
Embroidered excellence is the most competitive and saleable aspect of Indian fashion. Designer Varun Bahl whose couture has always been more engaging than his prêt would know this only too well. Against this landscape, the garden of embroideries he sent out last Saturday for his show at the recently concluded India Couture Week gave us another reason to become reflective about embroideries. Titled Vintage Garden, Bahl zeroed in on embroidered craftsmanship in a manner that was immensely pleasing and had the ring of a focussed and commercially viable collection. Finding the pulse of what has the potential to sell is not as easy as it may sound in the clutter and flutter of the bridal market.
Click here for enlarge
But Bahl clearly has a good sense of what would delight customers and how he could strengthen his own standing in the crowded scenario of couture. Vintage Garden—like the set on the ramp for Bahl's show that bloomed with multi-coloured roses—saw hundreds of roses in beautifully executed gara embroidery, baroque influences interpreted through florals with some tropical motifs. Fine silk threads created a floral paradise on lehngas, saris, loose flowing pants, a few gowns, short jackets, kurtas, and sophisticated versions of the Indian blouse. While Bahl chose ivory and a dominantly soft palette for his garments (barring some wine coloured ensembles), it was his duck egg blue and soft pinks that created maximum effect. Pairing them with each other was a great idea.
Notably, the menswear garments in this collection which also relied heavily on embroidery including embroidered gara shawls or fully embroidered short sherwanis with white churidars too looked pleasant if decorative in some instances.
Click here for enlarge
Two observations though. One, there were a few ensembles, especially a lehnga or two that were rather over the top. Each piece in those sets—lehnga, dupatta, blouse or top—was soaked in multi-coloured elements and thread work impulses, creating a blur. Editing them out would have made the range classier, more sophisticated. Two, it is difficult to understand the emphasis of a majority of designers, Bahl included, on the "global sensibility" of Indian wear. Using words like Western/ modern/ global/ interchangeably has become de rigueur. But they don't always stick. Bahl's clothes were pointedly Indian; they rested on skills that flower in our crafts culture and are commercially in demand largely in India or among Indians residing elsewhere. Not being Western in body and soul is what made them appealing and oriented towards a well-identified clientele. Even if Taylor Swift would like a gown or two from here.
[Source:- LIVE MINT]