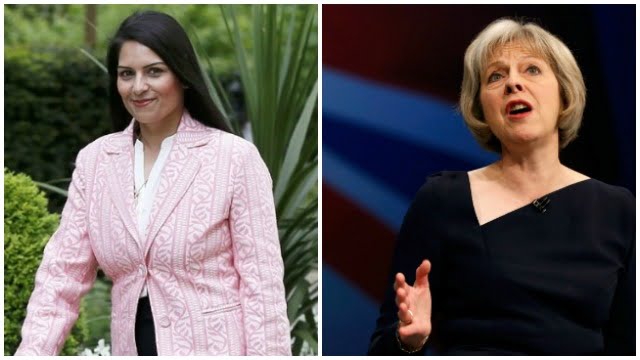 UK's Indian-origin minister Priti Patel, who had campaigned strongly for Britain leaving the EU, announced her support for Home Secretary Theresa May on Thursday to replace David Cameron as the prime minister, saying she was the right person to execute the "will of the British people." Patel's backing came as May emerged as the clear front-runner in the race to take over from Cameron, with over half of the Conservative party's 330 MPs voting in her favour in the first round of voting earlier this week.
Patel, who attends Cabinet in her capacity as UK's employment minister, said that May was the right person to implement the "will of the British people" while comparing her to Britain's first woman prime minister Margaret Thatcher. "Theresa May is the only candidate best placed to deliver and there is no other candidate who comes anywhere close to her experience, or record of strong leadership. She shares the steely determination I always admired in Margaret Thatcher, and she has the experience and trust needed to succeed for this great nation of ours," said Patel, who also serves as outgoing premier Cameron's Indian Diaspora Champion.
The second round of voting took place on Thursday and an all-woman contest between May and energy minister Andrea Leadsom is on cards for the post of Prime Minister of Britain. The third and final round of voting will take place next week and the winner would be announced on September 9. The winner will have the task of negotiating Britain's exit from its 43-year membership of the 28-member EU.
"I have always believed that Britain would be stronger, more prosperous and secure outside of the EU. I stayed true to what I have always believed in with principle and conviction. From all discussions with Theresa on the future of our country, I believe that her experience in tough negotiations, her determination to get the best deal for the UK, and her commitment to reduce immigration – in a fair way – make her the obvious choice," Patel said.
Admitting the divisions caused by Brexit, the 44-year-old Conservative party MP for Witham called on the party to unite under May's leadership. "We must end the tribalism and divisions seen in the Referendum between Leave and Remain and focus on defining our place in the world and putting core Conservative principles and values into action," she said.
The bookmakers' odds were heavily in favour of May taking over from Cameron, with Leadsom in second place and Gove an unlikely contender. The leadership contest was triggered following Britain's 52-48% vote in favour of leaving the EU in a referendum on June 23, after which Cameron announced he would be stepping down for a new PM to lead the country's exit negotiations from the economic bloc forward.
[Source:- Dna]