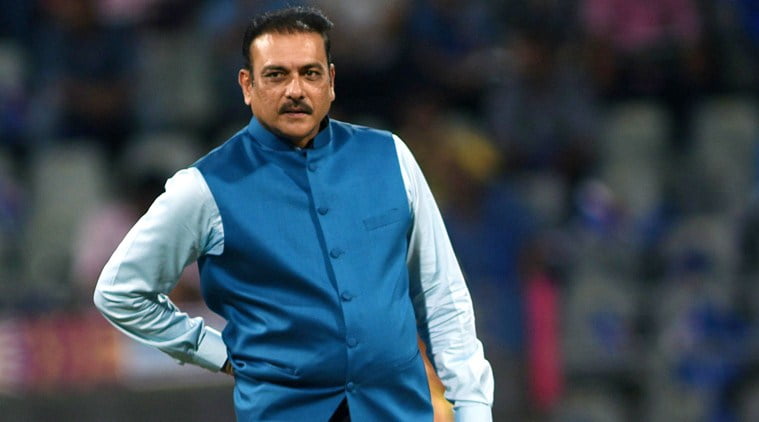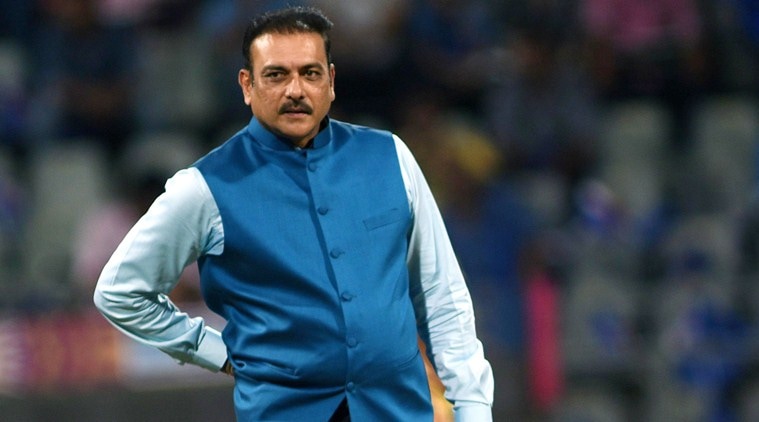 Hello and welcome, Ravi Shastri is back on air. After months of being a mute yet expressive figure on our television sets, in his role as India's team director, the voice of Indian cricket is back. As a cricketer, the 53-year-old was a gritty and pugnacious all-rounder who had a great sense of the moment. In the two decades since a troublesome knee ended his career prematurely, he's been part of every major moment in Indian cricket — either from the commentary box or the sidelines. In this two-part interview, Bharat Sundaresan and Sriram Veera discover the man behind the voice.
Were you always this flamboyant, growing up?
Go and ask any of the boys who played U-19 cricket with/against me when I was captain. Pretty much the same.
But did your larger-than-life personality start developing at that age or it came along later?
It came with exposure I guess. With travel. Meeting different people. Embracing different cultures. I was a guy who never sat in. I would be out whether I got out for 0 or a 100 or an 80, four wickets, three wickets. You could never find me in the room. I would find the best spots in town. Even if I had to go on my own. Whether it was Barbados, Antigua, wherever.
Former India batsman Gundappa Vishwanath was telling a bunch of us once about how back then there was a hierarchical thing, but then there were you. You had come to Bangalore for some tournament. It was very clear that you were the leader, you were comfortable having a drink in their presence.
Yeah, yeah. We used to jump over the bloody gate. Go to Koshy's (restaurant) at the back there. And one day Vishy was sitting there. He is my childhood hero. Jaake hello kiya lekin phir baaju mein jaake beer bulaya. (Laughter) (we went and said hello, then went to a corner and ordered beer). Me and (Bharat) Arun (the current bowling coach).
That sort of attitude has always been there as a boy then?
I was U-19, and was having beer up in the dormitory yaar. So the warden came and asked me, "What are you doing?" And he took the bottle. He groaned, "Bottle, lager, you are having." And he was taking the bottle away. So I said, "Ehhh..there's half left." I poured it into my glass and said, "Now, here take the bottle." So he went and gave it to Nagaraj (former BCCI and KSCA secretary from 1978) . So I was summoned. He said, "Young man, what have you to say?" I was 17, 18 at that time. I said, "I drink with my father, the man I respect the most. If I have to have a drink I have it with him. I am not hiding and doing." Then I said, "These boys were having it with me." And I was the captain. "No, no you should not be drinking," Nagraj said. I said, "Sorry about that." But didn't hold back one bit.
Even going further back, in your school-days, you weren't the shy types?
I would say I was reserved (then). Never over the top.
We always see you as this booming personality but one can't be always like this, right? Is there a vulnerable side?
You are normal yaar. Down moments were injuries. That was the worst moment. You had just got a 200 in Australia, prime of your career, you are 29, and then it's gone. I did go into my shell for that one month or so. Then a friend of mine called up and said, 'Hey Ravi, get out of the house. To hell with cricket. Come and give the Cup at the Gymkhana races. Just get out of the house'. So I went out, and was back on track.
How do you handle the personal things splashed in papers? One carried your divorce news.
Kuch farakh nahi padtha. Shit has to happen, it will happen. You got to get up and move on. You are talking about that newspaper report on divorce? We never even filed. I told that fellow, where do you get all this news from. You can find about (divorce) from any court. In this day and age, it's online. How can you write such (false) news? It didn't affect my personal life. My wife also handled it similarly. Both knew nobody had done anything.
Any other event that left you vulnerable, sad and how did you handle?
I lost my father and it took me a while to recover from that. He was my hero yaar. I didn't need another hero. He was my hero. He was a great guy, a doctor with tremendous goodwill. If I have done 20 per cent of what he has achieved in life, then I think I would have lived a good life. He was that great a guy. His death was very hard. He was 78, happened eight years ago.
You became a father after a long time. How is that going?
First class. Kid is tota (parrot), she is already doing commentary! (Her name is) Aleka. She is 7 and half. I am like a bakri (goat), I do whatever she says. No questions asked. When I am in Mumbai, she is there with me most of the times. But I travel a lot, so that's tough.
You were this top star in your initial playing days , then came that phase of defensive batting where people would chant 'Haai Haai'. Years after retirement, you once said, 'I wish I had won the crowd with a smile but at that time I just gave two fingers to them'. As a commentator, some of your viewers would be from that generation.
I never thought about that. I thought it was a fad. Television was new. It started at one venue and people could hear it on their box. Pretty much like this AB,AB (De Villiers chants). It started in Bangalore, AB, AB. Then everyone started saying it. Then it becomes a fad. Haai, haai also started similarly. It went from one venue to another. It happened once in a game I wasn't even playing in. One game I was injured against the West Indies. The game's going on somewhere. And I can hear, "Shastri Haai Haai, Shastri Haai Haai." Shastri hai bhi nahin! (Shastri isn't even there) It had reached that level that it had become a time pass for the crowd. But then what. It made me play even harder. I mean, with Hadlee bowling, and they're going Haai Haai. You are focusing on leaving him and playing him properly. Haai Haai what? You score a 50 or a 100 against the same opposition then they phirao topi. They clap.
The shot that you often would play, coming down the track and defend, which would trigger the Haai Haai. Did you ever do that intentionally, at some stage, to get to the crowd?!
No No, I would always like using my feet. I grew up playing some great spinners. So to score runs you had to disrupt their rhythm, some way or the other.
So you were never affected by the crowd then?
Never. Looking back, if I had smiled, I could have.
But you don't sit and regret it too much?
No, no. It brought some new qualities in me. It made you harder. Tougher mentally. It was very easy for me when it started to go out. But it made me even harder.
Any opposition player ever made the most of these Haai Haais?
A lot of them. "Ohh they love you boy," And I would say, "No, they love you."
Anybody in particular?
Aussies would all do it. But that thing (crowd heckling him) was for a little while. It was about two years in India. Then we started travelling. Unfortunately, by the time I came back with all those hundreds and double-hundreds, my knee had packed up. Then actually the Indian season started in 1993. But I was finished. From 1989 to 1993, we only played overseas mainly. I achieved a lot. Three-four hundreds. Big ones. Against the Aussies. The double. West Indies. Two in England.
There is a story of how you opened for the first time. Gavaskar knocked the door, you were drinking with a team-mate and told you will be opening. You stopped drinking immediately…
That was in Pakistan. That's the first Test. But again I took it as a challenge. The moment Gavaskar said opening, I said 'Brilliant'. Because everyone f****d up. Imran had 40, 35 wickets by that time. Sarfaraz had 38 in the series. So if you go and get runs, brilliant.
Was Shastri the cricketer a lot like Shastri the commentator. This bombastic person?
No, I wouldn't say bombastic. I was ready for a challenge. All the time I wanted to play against the best and perform against them. That's why people ask me that transition from No.10 to No.1, it's because I just wanted to go. I used to sit next to Sunny or whoever the captain was and say, "Mujhe nightwatchman bhejo." Chance mila, jao. Because it's a tough period of 10 minutes or so. Woh nikalega then next morning after sleep you get up and say saala abhi sau bhi kar sakta hai or at least 80-90. So you're thinking big. Not thinking like a bloody night-watchman.
You always spoke your mind?
Absolutely. Absolutely. Probably since I achieved a lot very young. By 23, I had won the car. By 23 only. At 24 you already had a double—2000 runs 100 wickets whatever. In Test cricket haan. Achievement was so much. That's what I'm saying. Those days I was at night club in Oberoi hotel. Up till 2 o' clock. Next day hundred. Then back at Oberoi. A lot of things you could have done better (Laughs). But that was you. Probably that's the reason people hated your guts. If you got out for zero also you'd be having a drink. You would be with people.
How did the cricketing fraternity deal with that? Did they also have issues?
Not really. Just with establishment, yeah. You fight for your rights. Logo issues and if there was no transparency. If one thing was allowed and the other thing wasn't, then I'd stick my neck out for sure.
A lot of people said you could have been the best captain. You just led in one Test but.
People say that. I knew I would have been one. Because you had won everything here yaar. If you look at domestically, I had captained teams that had Dileep (Vengsarkar), Sunny (Gavaskar), Sandeep (Patil), Anshu (Gaekwad), everyone in my team. And you win the West Zone man. I'm talking of when you're 24-25 years of age. If you could handle those sorts of guys, what is India man?
Why didn't the captaincy happen?
Probably because of what I said. It was an era where they wanted a Yes Man, who would bow to their terms. Don't answer back and say Yes to every damn thing.
You played your cricket on and off the field in an almost un-Indian way?
I don't know what the Indian way is but I won't lick a** to play. I won't lick a** to do anything in life. What you learnt from the game. You played it hard. Only thing that kept you going was that if you scored runs and took wickets that is what you are. Not because of an X or a Y.
So in whatever you do, be professional, which meant your work ethic and professionalism had to be of the highest standard. I don't think ever in my career, I had to look over my shoulder as to whether you are going to be dropped or not. I don't think it was ever that situation. Either I was injured. Because if I played 80 Tests, probably in that period of time, India must have played 85 or 88 or maybe 90.
You say you weren't a Yes Man but one of the main criticisms against you is that despite you being perceived as this man who speaks his mind, you were also always looked at as a man who was the BCCI's voice in the commentary box. And in those IPL days, you spoke up for Lalit Modi.
You know people forget, each one to his own. I'll still tell you, if I am what I am it is because of the opportunities given by the BCCI. U-19, playing for India, giving me that platform for 12 years. If you hadn't been given that opportunity then who are you? Who are you? Tell me. It is that. I have worked with all channels yaar. ESPN, this that. So if I worked with ESPN then people will say I am an ESPN man on those grounds. Why don't people say that? It only started because BCCI started their own production, which meant they were perfectly entitled to hire their own commentators. Not once was there a clause anywhere stating you have to do this or you have to not say this. Where have I yaar? I have given selectors baamboo . Calcutta I have gone on air saying "No air-condition here. Worst commentary box in the world."
And who's there? Dalmiya. Toh phir mereko kya hai. They will throw me out na straight. What I'm saying is that it's only public perception. What people don't realize is it's because they say BCCI became an empire. It's not that. It's only because BCCI owned the production. So they have the rights to sign any commentator, producer or director. All the staff are signed by them and paid by them. That was an area which people tried to add 1+1. There have been 3-4 presidents during that era.
Not once did anyone tell me you have to speak in that fashion. Because they know I know my "job yaar".
[Source:- Indian Express]