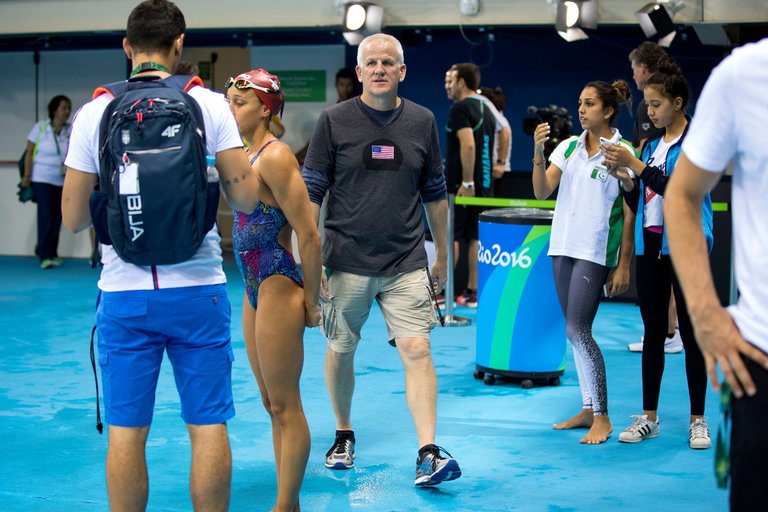 RIO DE JANEIRO — Before he became a full-time swim coach, Bruce Gemmell was an engineer and inventor whose oeuvre included toilet paper products. Among the 11 American patents on which his name appears is one for an adapter and dispenser for coreless rolls.
In 2011, Gemmell put his engineering degree to rest, but he has never stopped innovating. His latest project, Katie Ledecky, has thrived under his tinkering, becoming stronger, faster and more versatile.
In the four years since she began working with him, Ledecky has dropped more than eight seconds in the 800 freestyle, her gold medal event at the 2012 London Olympics. She has trimmed six seconds from her personal best in the 400 freestyle. She has lowered the world record five times in the 1,500-meter freestyle, a non-Olympic event for women. And she has become a world-class performer in the 100 and 200 freestyles.
"I couldn't be happier with how my four years have gone with Bruce,'' said Ledecky, 19, who opens her individual program in the 2016 Games on Sunday in the 400 freestyle.
The stakes were high in the fall of 2012 when Gemmell, now 55, arrived at Nation's Capital Swim Club from Delaware Swim Club to replace Ledecky's beloved coach Yuri Suguiyama, who had left for an assistant's job at the University of California. Suguiyama had shepherded a 15-year-old Ledecky to Mount Olympus; Gemmell faced the challenge of charting a new course for her.
"My wife is incredibly honest and practical sometimes," Gemmell said, "and I remember her telling me, 'You know, Katie may never go that fast again.'"
Gemmell recognized that swimming is strewn with teenage one-Olympic wonders. But he relished taking on the challenge of coaching Ledecky along with growing a 100-plus member team that includes 8-and-under swimmers. The fear of success that stymied his own competitive swimming career had not followed him into coaching.
Still, this is the first Olympic test for Gemmell, who is an assistant coach for the American women, although when people asked him at the United States Olympic trials if he was nervous, he looked at them quizzically.
Continue reading the main story
"This is my happy place," Gemmell said, referring to the pool deck.
"I kept telling him he could be a great swimmer, but he didn't quite believe it," Mattson said.
Gemmell earned all-America honors at Michigan, where he studied mechanical engineering and set a school record in the 400-yard individual medley. While in college, he placed 25th in the 200-meter backstroke at the 1980 senior nationals, which doubled as the honorary Olympic trials because of the American-led boycott of the Moscow Summer Games.
"On the ladder of success," Gemmell said, "I'd put a foot on a rung and I'd test it a little bit and I'd feel it again and then I'd slowly step up on it instead of running up the damn ladder and if the rung breaks it doesn't matter."
He was the opposite of Ledecky, who, he said, "can't even see the damn rung."
Gemmell added: "I worked really hard, but I was probably afraid of success. I didn't know it then. I see it a lot coaching swimmers now. I was going to rise to the top of my peer group, but I wasn't going to break away from it."
What was he afraid of? "I didn't want to stand out," Gemmell said. "I don't like to stand out on the pool deck now."
Gemmell did consider a career in coaching during his time in Ann Arbor. In his senior year, the Wolverines hired a personable but no-nonsense coach, Jon Urbanchek, to lead the men's team. Gemmell served as Urbanchek's graduate assistant while he pursued a master's degree in mechanical engineering. He enjoyed his time on the pool deck so much he thought about coaching full time and broached the subject with Urbanchek, who happened to be a failed engineering student (organic chemistry was his undoing).
"He was like: 'Don't do it! The pay is lousy, the kids are a pain in the neck, the hours are long,'" Gemmell recalled with a laugh. "You go be an engineer."
And so that's what Gemmell did. Over the next quarter-century, he held a succession of jobs in product design and project management for employers that included Kimberly Clark and Siemens. "It's funny," Gemmell said. "I go into the restrooms at meets and I look at the towel dispensers that are hanging on the walls, and the soap dispensers, and I'm like, 'Oh, yeah, I've got a patent on that one.'"
Gemmell dipped his toe back into coaching in 1992, when he took his toddler son, Andrew, to Mattson's team for learn-to-swim lessons. He was cornered by Mattson, who asked him if he could help out one or two nights a week. Gemmell's role kept expanding until soon he was immersed in workout planning and travel projects for the team now known as the Delaware Swim Club.
In 2004, Gemmell's daughter, Erin, was born, at which point Gemmell thought it prudent to give up one of his jobs because he was working 40 hours a week at both. He tried to resign from his engineering post, but his bosses at Dade Behring countered with an arrangement to work part time with benefits.
So for the next few years, as Dade Behring was being acquired by Siemens, Gemmell did a juggling act, burning vacation time from his engineering job to attend out-of-town swim meets.
In the summer of 2010, Gemmell was offered the opportunity to coach a U.S.A. Swimming junior team on a trip to Hawaii. It coincided with an engineering conference he was expected to attend. Gemmell chose Hawaii. Not long afterward, his wife, Barb, who is a veterinarian, said, "Just quit your engineering job."
Gemmell did and has never looked back. "If I'm driving to work in the morning and I see a Siemens truck go by, I think: 'Oh, I could still be working for them,' and then, 'Oh, I'm glad that I'm not still working for then,''' he said.
In 2012, his son, whom he coached when he was not in college at Georgia, made the United States Olympic team in the 1,500 freestyle. And at a training camp in Tennessee before the London Games, Gemmell observed a teenage girl chasing down the male distance swimmers in the pool. That was his introduction to Ledecky.
The unfamiliarity went both ways. Ledecky's mother, Mary Gen, said they did not know a lot about Gemmell. Before they met him, they were uncertain about the future now that Suguiyama had departed.
"We were saying, 'What are we going to do? Should we move?' We were trying to figure out what's best for Katie," Ledecky's mother said.
Their worries dissipated when they sat down with Gemmell. "He was mature, understanding, and he's got such a nice demeanor and a quiet confidence," Ledecky's mother said.
Ledecky described the transition from Suguiyama to Gemmell as "seamless" and added, "I think each year has gotten better and better." She knew everything was going to be fine when she found out Gemmell was familiar with Urbanchek's high-intensity threshold-training method. After a month spent working with Urbanchek at a pre-2012 Olympics camp, Ledecky shaved 5.15 seconds off her 800 time in London.
"I didn't even know what Bruce's training philosophy was or how his practices ran or anything like that," Ledecky said. "But I knew he had worked with Jon for a while and learned a lot from him. With how much I loved Jon at the training camp four years ago, I knew Bruce would be a great coach."
As Ledecky aims to become the first swimmer since Debbie Meyer in 1968 to win the 200, 400 and 800 freestyles in the same Olympics, she is pulling Gemmell into the spotlight. The man who said he doesn't like to stand out on the pool deck has been singled out for media interviews. In February, he signed with a Washington agency that oversees media, marketing and brand development.
Gemmell shrugs off the attention. His son, perhaps because he knows his father well, sent him a text on Thursday to remind him to savor his first Olympics experience, something he acknowledged he failed to do at his own Olympics debut in London.
"Hopefully, I'll take his wise, sage advice,'' Gemmell said.
He winced as he spoke, as if the retired engineer in him, the one whose livelihood depended on long-range planning, could not totally exist in the moment.
"Airports and restaurants and offices and hotel lobbies — that's the pain-in-the-neck stuff. I feel the tension drop when I get out on the pool deck."
As a young swimmer, Gemmell competed for Bob Mattson, who founded Delaware's Wilmington Aquatic Club and was a forward thinker in stroke mechanics and sports psychology. Speaking by telephone from his Delaware home, Mattson, 85, remembered Gemmell as someone who was talented, but lacked self-belief.
[Source:- The New Yourk Times]