Are you looking to upgrade from shared hosting to a VPS hosting service?
VPS hosting is an ideal option that will help to meet the requirements of your growing website.
One of the web hosts known for offering lightning-fast, scalable and cheap VPS hosting is MilesWeb.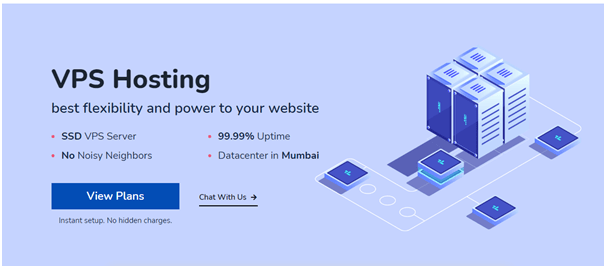 MilesWeb is an Indian-based web hosting service provider. Their services include shared hosting, WordPress hosting, reseller hosting, cloud hosting and dedicated server hosting.
With MilesWeb's fully managed VPS hosting, you get tons of features at unbeatable prices.
But is MilesWeb is value for your money?
The below MilesWeb review will help you know!
Before we get started with the review, let us know what VPS hosting is.
What is VPS Hosting?
A (VPS) virtual private server or a VPS server is an isolated environment created after a physical server is split into multiple virtual servers.
Each server has its share of dedicated resources like CPU, memory and disk space.
VPS hosting is an affordable alternative to having dedicated servers.
In VPS hosting, you don't have to share allocated server resources with other users.
You get a complete isolated environment with full root SSH access.
It is as good as renting a very small dedicated server but at a cost-effective price.
Managed VPS hosting
With the fully managed VPS hosting, all the core technical tasks of your server
are managed by the dedicated support staff of MilesWeb.
The core tasks include updating OS, installing software, managing the VPS hosting account for uptime, security and network.
It allows you to focus on your business/website instead of worrying about server management tasks.
Powerful VPS Hosting Features of MilesWeb
Solid-State Drives
The VPS hosting services of MilesWeb have built-in SSD drives that deliver high performance and reliability.
The SSD drives are blazing fast and durable. It uses flash technology that helps to improve the page loading speed of websites.
Also, SSD drives deliver better performance as compared to traditional HDD drives.
SSH and Root Access
SSH and root access mean you have complete control over your Virtual Private Server environment.
MilesWeb offers full root SSH access with their managed Linux VPS hosting plans.
Host Unlimited Websites
With MilesWeb, you can host all your websites under the same VPS hosting account.
It means that you can host and manage multiple websites from your single virtual private server.
Resource Monitoring Dashboard
With the VPS hosting plans of MilesWeb, you get a simple and user-friendly dashboard.
You can reboot VPS, monitor memory usage, check the server load and manage other configurations of your VPS server.
Highly Powerful & Robust Infrastructure 
The VPS hosting infrastructure of MilesWeb is built in collaboration with top players in the market, like Cisco, Supermicro, Dell and HP.
On their cutting-edge servers, you get the best uptime and stability for your websites.
No Additional Setup Fee
All the Linux VPS hosting servers get deployed automatically.
So, you don't have to pay any additional setup costs.
You only have to pay the price given on MilesWeb website for the VPS hosting planyou choose.
Winning Features of Managed VPS Hosting
Round the Clock Customer Support
If you need any assistance with your queries or issues, you can contact the support team of MilesWeb.
They have a well-trained and reliable support team who are active 24/7 and ready to help you via email and live chat.
Cloud-Powered VPS
Disk speed and performance are vital for a web server and particularly for a VPS.
If you want to have good disk I/O speed, you need to choose an SSD-powered VPS.
With the managed virtual private servers (VPS), you get the best I/O performance.
It utilizes the power of a dedicated server and the flexibility of cloud hosting.
Enterprise-Grade Hardware
The VPS servers of MilesWeb, are set up on a cloud infrastructure built with Enterprise-grade hardware.
It consists of high-powered SSD technology, Intel Xeon Processors and 128 GB RAM per server.
99.99% Uptime Guarantee
MilesWeb promises to provide a 99.99% uptime guarantee to keep your site online and accessible 24/7 without a hitch.
They do have occasional downtimes, but that is understandable and it's the same with other hosting.
Overall, I can say that they keep their word when it comes to having a decent uptime.
VPS Hosting Plans & Pricing
MilesWeb provides the best managed VPS hosting for high-traffic websites.
They have six plans for fully managed Linux VPS hosting, V1, V2, V3, V4, V5, V6.
The best part of MilesWeb's managed VPS hosting is its affordable pricing.
Their base plan of managed Linux VPS hosting starts at Rs.630 per month, on one year of subscription.
The high-tier plan V6 costs Rs.6,060 per month on one year of subscription.
For the introductory price of Rs.630 per month, you get the following resources.
2 vCPU
2GB RAM
500GB Bandwidth
Free SSL Certificate
Dedicated IP
To know about the resources you get with each plan, you can refer to the below image.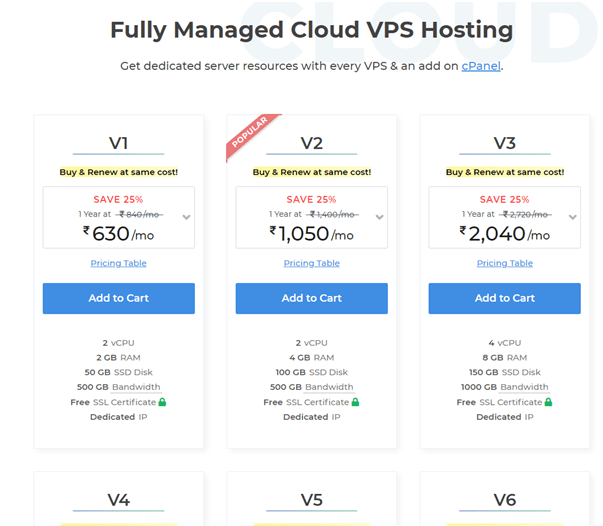 Each of these plans differs in terms of storage, memory and bandwidth.
With all the VPS hosting plans, you get dedicated IPs and a trusted SSL certificate.
Also, you can buy and renew the VPS hosting plan at the signup price.
Conclusion
If you want to opt for a reliable managed VPS hosting provider in the market, you can try MilesWeb's managed VPS hosting.
With their VPS hosting plans, you get an SSD VPS server, 99.99 Uptime guarantee, no noisy neighbors and an India-based data center location in Mumbai.
It is something that you would not find anywhere else for the price.