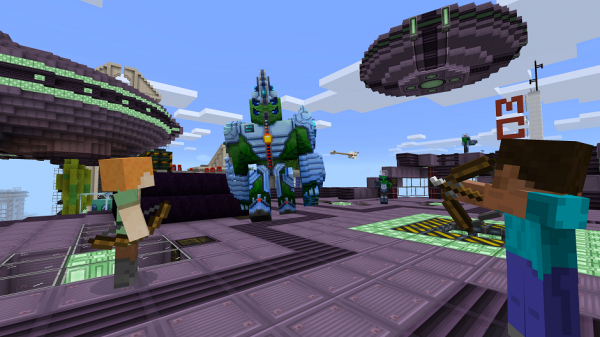 Minecraft is a worldwide phenomenon. Heck, it is even being used in classrooms for education. For many, including yours truly, the game's popularity is a bit of curiosity. The graphics are rather poor and the entire thing just feels very rudimentary. With that said, it does not require a lot of resources, meaning it runs well on modest hardware — this is likely a huge driver of its success. It even has special 'editions' for Windows 10, Samsung Gear VR, and mobile (Pocket).
Today, at MINECON 2016, Microsoft announces that it will bring some very important updates to the game next month. While the previously announced 'boss battles' will become available on October 18, there are some even more impressive things coming that day too, such as something called 'Add-Ons'.
"With Add-Ons, you'll be able to experiment with remixing components of entities or characters in the game. Worlds you create with Add-Ons can be shared with others directly or uploaded to your Realms and accessed anytime, anywhere", says Jesse Merriam, Executive Producer for Minecraft, Microsoft.
Merriam further explains, "in addition to new gameplay features and the ability for players to customize the game itself, we'll also be adding new input options. The Boss Update will allow you to use your Xbox Wireless Controller with Bluetooth while you're playing the Gear VR and Windows 10 Editions. And, VR players of the Windows 10 Edition will be getting an update to support Oculus Touch input".
While the boss battles are certainly interesting, it is the added support of Oculus Touch and the Xbox Wireless Controller that is truly intriguing. Without a doubt, Minecraft should continue to see success with virtual reality — the game seems to fit that medium beautifully. With that said, solid controls are an integral part of creating an immersive VR experience. This October update will increase control options.
Are you looking forward to the October 18 update for Minecraft? Tell me in the comments.
[Source:-Beta News]