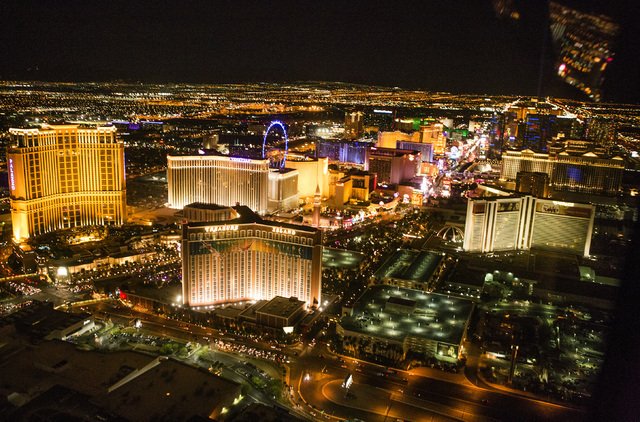 CARSON CITY — Nevada casinos posted a strong 6.8 percent gaming win in June, helping the state's major industry eke out a tiny 0.66 percent gain for the fiscal year that ended June 30, the state Gaming Control Board reported Friday.
The $887.4 million statewide win in June helped bring the total gaming win for the 12-month 2016 fiscal year to $11.1 billion, for the gain of less than 1 percent over the prior fiscal year.
Although the Nevada gain was small it looks good compared to Macau, which saw a 22.5 percent decline in win over the same 12-month period. Macau has reported 25 straight months of declines.
The 2016 Nevada statewide gaming win was the fifth in six years, and comes off of a 1.6 percent decline last year. The $11.1 billion in total win in 2016 remains 12.7 percent below the Nevada peak in the pre-recession year of 2007.
The Strip had a strong June, raking in $488.9 million for a 9.7 percent gain over June 2015. But for the year, the Strip ended slightly negative, with a 0.64 percent loss on $6.3 billion in revenue.
The Strip was helped in June by a strong baccarat win, totaling nearly $76.3 million for a 32 percent increase over June 2015. But for the year, the $1.3 billion baccarat win on the Strip was off 6.4 percent over Fiscal Year 2015.
Michael Lawton, senior research analyst for the board, said 12 of the 14 Nevada markets tracked by the state saw gains in 2016 over 2015.
"From the perspective of the entire state, that shows you the growth is widespread," he said.
Unfortunately, one of the two down markets was the Strip, which is influenced strongly by baccarat play, Lawton said. If baccarat was excluded from the Strip numbers, the market would have been up 1 percent in fiscal 2016, he said.
The other down market for the year was South Lake Tahoe at minus 3.8 percent.
For Clark County as a whole, the June gaming win was $761.6 million, up 7.3 percent over June 2015. For the fiscal year, gaming win in Clark County was up 0.58 percent to $9.6 billion.
The downtown Las Vegas market led the way in percentage win in fiscal 2016, coming in with a 5.4 percent gain over the prior year with $549 million.
The keys to the strong June performance were threefold:
— The June 2015 win was down 8.4 percent, so there was an easy comparison this year.
— The percentage "hold" on baccarat wagers in June was 14.1 percent compared with 9.4 percent in 2015.
— There was an increase in both volume and hold on slot play, which generated $594.7 million statewide for a 7 percent gain over June 2015.
[Source:-Las Vegus Review Journal]