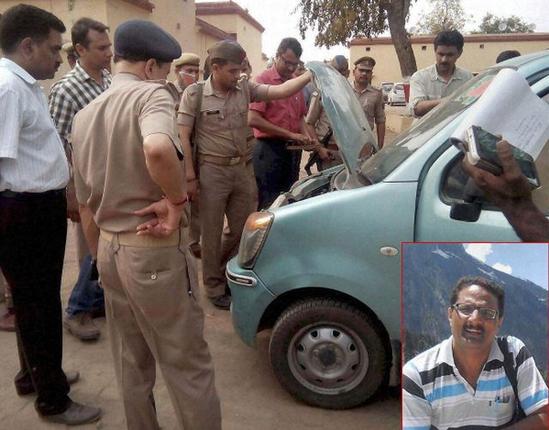 The Uttar Pradesh police on Tuesday arrested two persons it claimed were among the three accused in the murder of National Investigating Agency (NIA) officer Tanzil Ahmed. The main accused and alleged mastermind of the crime, Muneer, is still on the run and efforts are on to nab him, police said.
Police also recovered the motorbike alleged to have been used in committing the crime. The two persons arrested are: Mohammad Rehan, nephew of Mr. Ahmed's brother-in-law, and Mohammad Jaini. They were picked up at around 6 am from Sahaspur.
Inspector General (Bareilly Zone) Vijay Kumar Meena, who paraded the two before the media, hinted that as per preliminary investigations and interrogation of the accused, 'vengeance,' personal animosity and domestic disputes appeared to be the main reason behind the crime. On the intervening night of April 2 and 3, Mr. Ahmed was shot dead while his wife was grievously injured after two persons riding a motorbik intercepted his car while he was returning to New Delhi after attending a marriage reception in his native Bijnore.
While the real motive will be clear only after the arrest of Muneer, who is said to have fired the bullets, police said Rehan's account helped them reconstruct the sequence of the crime. Mr. Meena said Muneer suspected Mr. Ahmed of being a police informer. The police said that they could establish Muneer's role in the crime as the pistol used in the officer's murder was the same one used in a recent robbery case in which Muneer was suspected.
"From the forensic report of the bullets of the 9mm weapon, we can establish that the pistol used in the Rs 91 lakh loot in Dhampur area on December 28, 2015 was the same used in the crime (murder)," Mr. Meena said.
During interrogation of Rehan, it was found that he had sought help from Mr. Ahmed in several cases, including one involving his family and another over a property dealing issue, but the officer had denied assistance. This apparently enraged Rehan, who while talking to media on Tuesday said he did not have a clue that Muneer would pump so many bullets into the officer. "I thought he just wanted to scare him or fire at his leg," he said, adding that Muneer was brewing with hate for the officer.
The Uttar Pradesh police has announced Rs 50,000 reward to anyone who helps in Muneer's arrest.