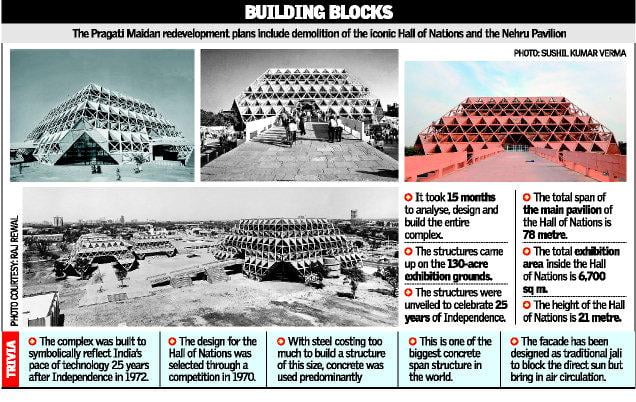 Hall of Nations and Nehru Memorial, built to celebrate 25 years of Independence, face demolition threat
elhi's skyline is dotted with examples of architecture from the medieval and colonial eras, which stand as testament to the city's rich heritage. These windows into our past allow us to relive periods that have contributed to define the city we live in today.
However, a number of iconic structures built at Pragati Maidan to celebrate 25 years of Independence face the threat of demolition in the name of development.
In November 2015, the redevelopment plans for Pragati Maidan were announced by the India Trade Promotion Organisation (ITPO). As per the plans, the Hall of Nations and Industries Complex, and the Nehru Pavilion were to be demolished to make way for a state-of-the-art convention and exhibition space and other facilities.
Since then, a number of individuals and institutions, including the Indian Institute of Architects and an online petition on Change.org to Prime Minister Narendra Modi have been started to save the buildings.
The petitioners have also gained international support, with officials from the Centre national d'art et de culture Georges Pompidou in Paris and New York's Museum of Modern Art writing to the Minister of State for Commerce and Industry to conserve the structures. However, these calls seem to have fallen on deaf ears.
The Change.org petition says the spatial organisation of these buildings, designed by architect Raj Rewal and celebrated engineer Mahendra Raj, provides opportunities to extend our cultural legacy within the city without destroying them, as there is sufficient space within and around these buildings to accommodate new programmes and adaptive reuses.
Calling it a symbol of modernity, the petition says the buildings have been acknowledged all around the world as icons of modernity and even found a place in the annals of architecture and Indian cultural history. It says the integration of these historic structures is key to any smart development as the structures occupy less than two per cent of Pragati Maidan, and can easily be refurbished and provided with modern services like air-conditioning at economical costs to accommodate new functions.
Commenting on the plan, Ranjit Hoskote, the co-curator of the recently-concluded exhibition "The State of Architecture: Practices and Processes" in India, said: "While the ill-considered redevelopment of Pragati Maidan has been announced in the name of progress, it appears to be informed by a deep contempt for postcolonial India's achievements in architecture and engineering, for all that has truly been 'made in India'."
He added that to demolish these buildings is to wilfully enact a cultural amnesia.
"We must also remember that 'heritage' does not reside only in buildings and objects that are over a century old — this is only a guideline. The aura of heritage can evolve around buildings and objects of more recent vintage too, if they articulate our shared struggles and accomplishments as a society and nation. What the Hall of Nations and the Nehru Pavilion need is restoration, not demolition."
Attempts were made to contact the ITPO to find out the current status of the redevelopment plans, but the organisation did not respond.
[Source:- The Hindu]