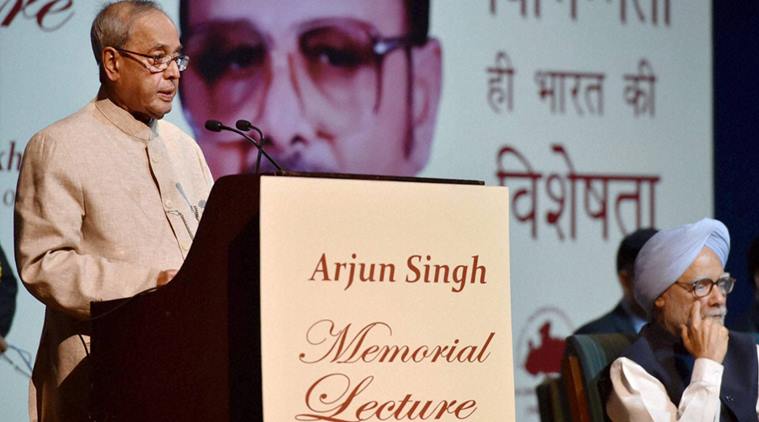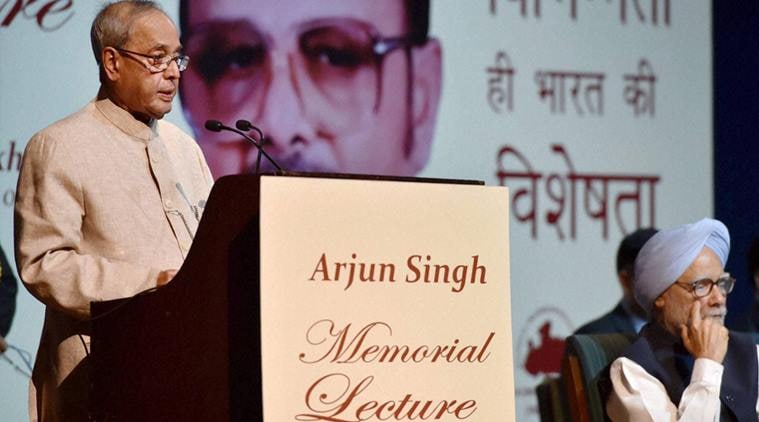 PRESIDENT PRANAB Mukherjee said on Saturday that "pluralism and tolerance" are the "hallmark of our civilisation", and India's diversity is a "fact" which cannot be turned into "fiction" because of the "whims and caprices of few individuals". He also warned that communal harmony, at times, will be put to test by "vested interests", and Indians must "remain alert to communal tension rearing its ugly head anywhere".
"Pluralism and tolerance have been the hallmark of our civilisation. This is a core philosophy that must continue undeterred. For, India's strength lies in her diversity," said Mukherjee, speaking at the first Arjun Singh memorial lecture.
"Diversity of our country is a fact. This cannot be turned into fiction due to the whims and caprices of few individuals. Plurality of our society has come about through assimilation of ideas over centuries. The multiplicity in culture, faith and language is what makes India special. We derive our strength from tolerance. It has been part of our collective consciousness for centuries. It has worked well for us and it is the only way it will work for us. There are divergent strands in public discourse. We may argue. We may not agree. But we cannot deny the essential prevalence of multiplicity of opinion. Otherwise, a fundamental character of our thought process will wither away," he said.
Quoting Mahatma Gandhi, he said, "Religion is a force for unity; we cannot make it a cause of conflict". "At times, communal harmony will be put to test by vested interests. We must, therefore, remain alert to communal tension rearing its ugly head anywhere. Rule of Law must form the sole basis for dealing with any challenging situation. It is our democratic underpinning that must prevail at all times," he said.
Emphasising that democracy is "not all about numbers but also calls for consensus building", Mukherjee said a phenomenon seen in recent times is the way the common man is engaged with affairs of the nation. "While we must wield no space to anarchy, efficient democratic machinery must have the means and wherewithal to absorb public opinion for formulation of sound policies," he said.
Mukherjee, who lauded Singh's eight-year stint as the HRD minister, also spoke on the quality of education. "Unfortunately, the quality of education in most of our institutes is below par… Many meritorious Indian students pursue their higher studies from foreign universities… Since 1930, no scholar from an Indian university has won the Nobel Prize."
He said the role of educational institutions goes beyond classrooms. "It is incumbent on them to mould students into responsible human beings. They have to instill in the students the civilisational values of love for motherland; performance of duty; compassion for all; tolerance for pluralism; respect for women; honesty in life; self-restraint in conduct; responsibility in action; and discipline," he said.
Congress president Sonia Gandhi, who also spoke on the occasion, said secularism and a democratic India was Arjun Singh's "core belief". "He passed away five years ago, and during this period, the country's politics has changed rapidly. What is happening in society these days, I think sometimes that we need people like Arjun Singh more now," she said.
Among the senior party leaders who attended the lecture was former Prime Minister Manomohan Singh.
[Source:- Indian Express]