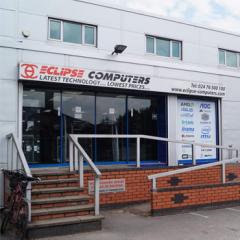 As the biggest independent PC retailer in the Coventry area, Eclipse Computers has built up a solid reputation amongst gamers – and has also recently renovated its LAN gaming arena. Dominic Sacco interviews general manager Lee Greatrex about the business and the challenges it faces in today's system build market
---
Tell us about Eclipse's background…
Eclipse was established in 1996. We're the biggest independent retailer in the Coventry area. We have a 20,000 sq ft warehouse where we offer lots of stock of items: cases, monitors, printers and so on. We have a large retail showroom which displays the vast majority of our hardware, plus displays for computers, monitors, laptops, graphics cards and hard drives.
What kind of products and services do you offer?
We do everything from building a £300 computer to a £3,000 gaming rig or many thousands of pounds of gaming equipment. We build them to the customer's specifications. We also offer repairs for laptops, tablets, mobile phones and PCs.
Tell us about the Eclipse Arena.
We refitted it to make it a separate entity so people can come and go as they please and it doesn't interrupt the retail showroom.
Recently a charity asked us if they could use the arena. We had a group of about 40 disabled people come in. They thoroughly loved it. We have about 20 to 25 machines in there and each one was taken up by a young child, with adults and carers playing as well. It was a great event.
Tell us about your involvement with eSports and sponsoring UK team Choke Gaming?
Most of my forte is with Eclipse itself. Choke Gaming MD Tom Villiers and the other guys upstairs deal with eSports and Choke. The publicity we've got in sponsoring Choke has been absolutely immense. We're going all over the country, we add different parts of Europe to the arena on certain days and play League of Legends games. It's been really good.
Do you sell to the corporate sector?
At the moment our main focus is on consumers. We don't have a business model set up for the corporate sector yet, but we do have a few accounts where people will keep coming to us for new hardware. That's something we'll look into.
What are your thoughts on the current state of the system build sector?
It's a bit static at the moment, things seem to have slowed down lately in terms of upgrades. I think people are thinking of buying new PCs instead. There's been nothing in the way of new memory, motherboards, processors and graphics cards, other than the new NVIDIA 1080.
What are you most looking forward to this year?
I think a nice new Intel motherboard/processor combination, and obviously new AMD graphics cards will give the customer more choice. Offering customers more power for their money is what we try to aim for.
What are the challenges of competing with other etailers/system builders?
Competition is very challenging. Our new website launched a couple of weeks ago, it's been completely redesigned and rebuilt from the ground upwards. We've been listening to the customers and having their input – we're now offering a much better customer-focused module.
[Source:- PCR]