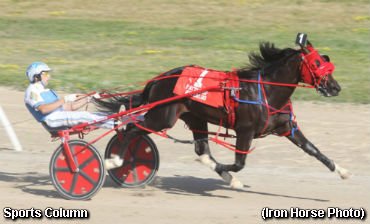 Confidently handled by driver Chris Christoforou, Sports Column delivered on his pari-mutuel promise with a front-end effort in the $159,500 Battle of Waterloo for Ontario-sired two-year-old pacing colts and geldings to close out Grand River Raceway's Industry Day celebrations on Monday, August 1.
The Blake MacIntosh-trained Sports Column was the 1-2 favoured elimination winner with the inside post position. The other elimination winner, 3-1 second choice Calvin K (Jody Jamieson), left from post two and attempted to cross in front of Sports Column off the gate, but broke stride around the first turn taking himself out of contention.
"I was looking to cut them loose and then remove," said Christoforou afterwards of the early racing action involving Jamieson and Calvin K. "I could tell what he was trying to do and I probably would have done the same type of thing, but it didn't work out so we just kept right on going."
Not having to remove to the front left Christoforou certain of the race's outcome.
"I was never in doubt from there," he said.
Sports Column came away with the lead and carved out a :28.2 first quarter before Classic Pro (Randy Waples) took his shot, moving first over from fifth. Sports Column rebuffed that rival and held clear to three-quarters in 1:26.4 before digging in down the stretch to pull away by two lengths in 1:55.4. Happy Trio (Sylvain Filion) overtook Aston Hill Dave (Doug McNair), who secured a pocket trip from the trailing tier and finished third.
Sports Column is the first colt that his Campbellville, Ont. reinsman has guided to victory in Grand River's signature race.
"It's been awhile and I've been in enough of them, I was hoping today would be my day and it was and I'm very happy," said Christoforou, noting that he was very confident Sports Column would achieve the result he was hoping for heading into the race. "I thought with the rail he was about 99 percent there before the gate opened. I've got a lot of confidence in this colt. He's a very good colt and Blake's done a heck of a job with bringing him down and getting him ready."
"I always have this race circled," said Cambridge, Ont. conditioner Blake MacIntosh, who also earned his first Battle of Waterloo victory. "We've had some bad luck in it — we broke in it three times — and I just wanted to win this race so bad.
"I'm never too confident. I thought we had a good shot and I was just praying all week that everything went right. He trained a little on the right line so I was scared all week, but 'Greek' [Christoforou] did a great job with him and I've got to thank Mr. and Mrs. Thomson for giving me the opportunity to train horses for them."
MacIntosh shares ownership of the Sportswriter-Lady Leslie colt with Joe and Joann Thomson's Pennsylvania-based Hutt Racing Stable, and Daniel Plouffe of Bromont, Que.
Sports Column now has three wins and two seconds in five career outings and the lion's share of the purse boosted his bankroll to $169,500.
"He was just special from the start, I thought," said MacIntosh "It's just a dream to have a horse like him."
Sports Column's next assignment will be the Ontario Sires Stakes Gold leg on August 11 at Mohawk Racetrack, followed by the Champlain Stakes.
Two-year-old pacing filly Bid Writer and driver James MacDonald just held off Aint Three Ok in a battle to the wire to win the co-featured $107,800 Battle of the Belles.
Bid Writer provided MacDonald with his second victory in the Battle of the Belles and the first for Everett, Ont. trainer Jeff Gillis, who co-owns the Sportswriter-Bust Out The Bid filly with Mac Nichol of Burlington, Ont., and Gerald Stay of Buffalo, New York.
"I just went in with an open mind; just kind of take what the race gives you," said MacDonald, who also won the Battle of the Belles in 2014 with another Sportswriter filly, Win The Gold, for trainer Tony O'Sullivan. "I knew I was going to try going forward a little bit as long as not everyone was leaving."
MacDonald sent Bid Writer to the lead from post two, but had another elimination winner, Loves Angel (Doug McNair), firing out from post six and working to clear during the 28-second opening quarter. MacDonald moved Bid Writer back to the lead at the quarter pole and raced on to the half in :57.2.
"I was confident because even when I came back around Dougie [McNair], I didn't get stressed out. She did it pretty easy and I didn't have to start her up," said the Guelph, Ont. reinsman. "She just felt comfortable the whole way."
Meanwhile, Village Jamie (Jody Jamieson) was flushed out from fourth and advanced into second-place down the backstretch with 3-5 favourite Aint Three Ok (Trevor Henry) following the cover.
Village Jamie dropped in behind Bid Writer as they passed three-quarters in 1:26.4 while Aint Three Ok continued to pursue outside into the stretch.
"When we got into the turn, I thought he was going right by," said MacDonald of the oncoming favourite. "Mine's…just a little green and when I got into her and kind of asked her to do her job, she was more than happy to do it."
Aint Three Ok went head-to-head with Bid Writer down the lane, but the front-stepping filly held on by a head for the victory in 1:57 flat. Shanghai Sugar (Travis Henry) came on for third.
Bid Writer paid $6.10 to win as the 2-1 second choice following her wire-to-wire elimination victory last week. A $52,000 Lexington Selected Sale purchase as a yearling, the promising filly is now three-for-four to start her career, with a bankroll climbing to $76,300.
"I'd like to trip her out a few times; she's done a lot of road work since she's started," noted MacDonald. "But when the money's on the line, especially on a half-mile track, you've got to be in the race. She's progressing well and hopefully she'll be around for the whole year."
On the Industry Day undercard, L A Delight turned in a track record-equalling performance for three-year-old filly pacers with a dominant 1:53.1 victory in the afternoon's second $105,000 Ontario Sires Stakes Golddivision.
L A Delight easily matched the divisional track record that was originally set by Seaside Rory on August 26, 2013 for former Battle of Waterloo champions, driver Randy Waples and trainer Bob McIntosh.
Leaving from the inside, Good Will Hanover (Chris Christoforou) established the lead off the gate with the rest of the field lined up in post position order early on, except for breaker Lay Lady Lay (Mike Saftic), before 3-5 favourite L A Delight and Waples swept from third to first by the :27.4 quarter pole.
Cracklin Rosie (Doug McNair) then advanced first over from fourth and briefly collared L A Delight as they raced past the half in :55.4, but L A Delight regained the lead on the turn moving into the backstretch and put away that challenger on the way to three-quarters in 1:24.
With L A Delight beginning to get away on the field on top, Mayhem Seelster (Sylvain Filon) fanned wide off the fading cover and came on for second. L A Delight was long gone entering the stretch and she secured her third Gold victory of the season with an eight-length winning margin. Last year's Battle of the Belles champion, Free Show (Jody Jamieson), finish third.
After the race, Waples said it was an easy win for the Bettors Delight-West Of L A filly, who could have taken down the track record.
"It was real easy for me, I haven't asked her yet," quipped Waples. "For me, where I was sitting and everything, it was just a nice cool breeze and everything worked good.
"She was out far enough away that I was pretty sure that nobody was going to make a surprise move and reel her in. I just kept bringing her back to the field as much as I could. It's a long year for them. One thing about Bob, he's never been one for track records; he just likes to have them win."
L A Delight is owned by Robert McIntosh Stables Inc. of Windsor, Ont., Al McIntosh Holdings Inc. of Leamington, Ont., and C S X Stables of Liberty Center, Ohio. After her O'Brien Award-winning freshman season, the homebred filly has been perfect in the Gold Series this year, taking a mark of 1:51.2 at Mohawk Racetrack on July 9.
"She's the grandmother that you had that baked you cookies and told you when you got a D it's really not that bad. She's just a real sweetheart of a horse," said Waples. "She's just sweet to be around, she's sweet in a race, and she just does everything that she's supposed to. She's a total professional."
A winner of 15 of her 20 lifetime starts and $945,829, L A Delight rebounded from a puzzling break in stride in her last race and only start outside Canada so far in her career, the Mistletoe Shalee on July 16 at The Meadowlands.
"As far as I know, she's never even made a break training down so it was completely unexpected," said Waples, addressing the miscue. "Nobody seems to know really what she did. It looks liked she either maybe stepped over something or shied from something because, like I said, she's never made a break — she didn't know what she was doing when she was running. It was really unfortunate. It would have been nice to see her go in against those [Grand Circuit] fillies and come out of it with a huge mark because I think the race ended up going in [1]:49 and change and I still believe she would have won the race if things had of worked out better for her. But nobody seems to know and, touch Randy's wooden head, it didn't happen today."
Divas Image claimed her first Ontario Sires Stakes Gold trophy with a strong front-end performance in the first $105,000 division to begin the stakes action on the Industry Day program.
New Jersey reinsman Joe Bongiorno was in town for his Grand River Raceway driving debut aboard the Bettors Delight-Rocknroll Diva filly for trainer Richard Johnson and New York owners Our Horse Cents Stables, Jt45 LLC, and J And T Silva Stables LLC.
"I haven't been here before, but I definitely enjoyed the short trip that I was here for," said the 22-year-old up-and-coming driver. "The track seems nice to me and I was just very happy with the way the filly raced."
Sent postward as the heavy 1-9 favourite, Divas Image and Bongiorno used their inside post position to secure the lead around the first turn over Danish N Coffee (Randy Waples) while Maniana (Jody Jamieson) left from post three and worked to clear through the first quarter in :27.4. However, Divas Image quickly retook the lead and raced to the half in :57 while Danish N Coffee tipped out and advanced into a two-hole opening.
"It's more of a hassle to not let him [Jamieson] go and get run down," noted Bongiorno on his early racing strategy. "So to let him go and then come back easy like we did, it was just easier to do that and it worked out better for me, for sure."
Party In Rome (Trevor Henry) then pursued outside down the backstretch and moved up within two lengths of the leader, who was still clear on top by three-quarters in 1:25.1. She tucked in briefly behind Divas Image on the final turn before moving back out for the stretch drive. Divas Image remained strong on the lead down the lane though, holding off Party In Rome by three-quarters of a length in a career-best clocking of 1:53.3, which was just two-fifths of a second off the divisional track record. Party In Rome settled for second while Killean Finale (Jason Ryan) finished third.
Divas Image, who was a Grassroots winner over the Elora, Ont. oval as a two-year-old, was recently acquired by her U.S. connections and entered Monday's Gold event off a pair of 1:54 and change victories over Yonkers Raceway.
"She's a really nice filly," said Bongiorno. "We've raced her twice since we've had her and she's been excellent. Both times at Yonkers she was in hand and I had a feeling she would go a big mile over here today."
Divas Image now has five victories from 18 career starts and earnings totalling $133,520.
The Ontario Sires Stakes sophomore pacing fillies will meet again in the fourth Gold Series leg on August 21 at Rideau Carleton Raceway.
After a mid-afternoon rain shower, the $12,500 Bill McDonnell Memorial Invitation Pace was held to honour the memory of the former Grand River Agricultural Society and Ontario Racing Commission director who passed away last September at the age of 79.
"If we go back to Elimira when we were really in trouble in late 80s, it was Bill and Mr. Grey who were running the commission at the time, and without their help, we wouldn't be here," noted Dr. Ted Clarke, general manager of Grand River Raceway and the former Elmira Raceway. "So if you're measuring what effect he had, you could say 100 percent."
"It's very emotional," said Marlene McDonnell, who was on hand for the Industry Day celebrations and the race named after her late husband, "but I know that this would be the biggest honour; there just isn't any greater. He would be so pleased."
The McDonnell Memorial was won by the front-striding Saulsbrook Peach and driver Robert Shepherd. Leading front start to finish, the seven-year-old Royal Mattjesty-Atlanta Girl gelding set fractions of :27.3, :57 and 1:25.2 before stopping the clock in 1:54.1 in sloppy conditions. Lets Wait And See (Nick Steward) tipped out near the third quarter mark after Single White Sock (Doug McNair) made little progress first over and came on to finish second, two and a quarter lengths behind the winner, who returned $8.60 to his backers as the 3-1 second choice. Rise Up Now (Sylvain Filion), the 6-5 favourite, follow in third off a pocket trip.
Saulsbrook Peach has been Preferred regular at the Ontario 'B' tracks since being claimed in February for $10,000 at Woodbine Racetrack by Catheline Pelletier of Mirabel, Que. The Isabelle Darveau trainee now has six wins from 26 starts this year and seasonal earnings over $40,000.
Trotters were in action on Industry Day competing in an $11,000 Racing Under Saddle (RUS) Handicap. A newcomer to racing under saddle this year, Gracies Harmony pulled off a 41-1 upset as she romped to a six-length victory.
With regular RUS rider Marielle Enberg aboard for owner/trainer James Tropea of Mono, Ont, Gracies Harmony got out to a quick early lead from post two and carved out fractions of :31, 1:02 and 1:33.4 en route to the 2:04.2 triumph. Muscle Matters (Sarah Town), the 2-5 favourite after his RUS victory on July 16 at Georgian Downs, moved into second-place approaching the half and followed hot on Gracies Harmony's heels before the leader took off around the final turn. Muscle Matters stayed for second while Osprey Vision (Amber Lawson Brand) finished third in his RUS debut.
Gracies Harmony returned a whopping $84.60 for a $2 win ticket. The nine-year-old Hard Rock N Roll mare is a career winner of 29 races and $134,015 in purses.
The next RUS Ontario event is schedule to take place on August 20 at Hanover Raceway.
In other Industry Day activities, James MacDonald's reign in the annual Bouncy Pony Stakes came to an end. Four drivers took to the track in a heated dash aboard bouncy ponies between races with newcomer Tyler Jones out-bouncing five-time winner MacDonald to prevail in a photo finish in the 2016 edition. J Harris and Bob McClure also took part in the fun-filled event in which MacDonald was handicapped with a "bridle change" donning two eye patches after fan voting.
The Best In Show competition sponsored by the Ontario Harness Horse Association awarded $1,500 to the caretakers of horses racing on the Industry Day card. Fifteen prizes of $100 were presented to the top five in each of the following categories: Best Of Show Head-To-Toe, Horse & Groom and Above & Beyond (braids, sparkles, etc.). The winners were: Bailey Wright, John Archer, Alyshia Williamson, Bernard Lavigne, Natasha Day, Dillyn Jackson, Rick Welsh, Jessica Breese, Tiffany Stein, Emily Auger, Leslie Harris, Steph Horner, Tracy Roberts, Katie Miller, Nicole Pedden, and Vicki Paulic.
A garage sale offering assorted horse and horse racing memorabilia and collectibles raised more than $1,041 for the Ontario Standardbred Adoption Society.
Grand River Raceway's 26th annual Industry Day celebration produced a record handle of $481,230 wagered on the 11-race card, an increase of 54 percent over the record set in 2015. A crowd of approximately 4,000 people on-track wagered $87,890.
[Source:- Standardbred Canada]