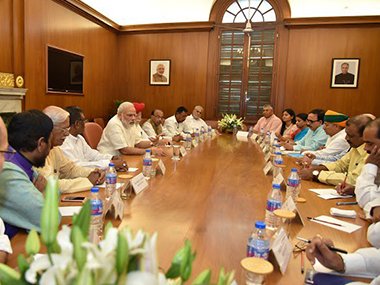 What appeared to be a tepid attempt at a Cabinet reshuffle by Narendra Modi in the morning of Tuesday turned out to be a significant shake-up with political and performance overtones by the late evening. The sting of the shuffle was in portfolio allotment, not in the numbers inducted or sent packing.
While the Big Four Ministers — Home, Finance, Defence and External Affairs — seemed untouched, at least two of them were indirectly impacted by the major changes or inductions at the Minister of State (MoS) level. The big bang impact areas included HRD, Telecom, Rural Development, Law, Parliamentary Affairs, Civil Aviation and Textiles.
It would have been easy to dismiss the exercise as being done with the Uttar Pradesh Assembly elections in mind, but this would be an overstatement. With 13 ministers from the state even after the fresh inductions this time, UP is just about adequately represented in the Modi Cabinet, given its sixth share in the population of India and the BJP's overwhelming number of MPs from this state.
So, despite some ritual obeisance to political compulsions, the broad focus of this exercise has been towards performance. Just as well, for Modi has less than three years in which he has to deliver a performance which can be "felt" by the people. What people know is he is earnest; what they are not sure about is whether they will benefit directly.
The NDA under Atal Bihari Vajpayee had many achievements to his credit, but growth revived too late for it to be felt by voters. In contrast, UPA-1 took advantage of NDA-1's growth surge to coast along for five more years and claim the credit for it. Modi's challenge is to ensure that people feel the change at least two years before 2019 for them to believe he has delivered. This is why this Cabinet reshuffle is important, being the last major effort before the electorate makes up its mind.
The problem areas for the Modi government have been growth, rural distress, tepid improvement in jobs, and an uncorrected mess in education. The last mess was created by the UPA's deeply flawed Right to Education Act, its poorly thought-out decision to ban detentions of students till the eighth standard, and failure to get more foreign investment and expertise in higher education. Smriti Irani, despite being a feisty and aggressive minister, was not up to speed on this. She also had a tendency to wade into needless controversies, something that was distracting, given the nature of the challenges at hand. Her replacement with Prakash Javadekar, a low-profile and hard-working minister, will ensure that HRD focuses on essentials and not on the thrills.
Given her seeming proximity to the PM, Irani's shift from HRD sends a very powerful signal that proximity is not a substitute for delivery. She was shifted sideways to Textiles, another portfolio close to Modi's heart, given its scope for employment generation and its importance to Gujarat itself. This is not a demotion, but a move to make Irani less controversial and more useful.
The same message got sent in Finance, where Arun Jaitley, one of the two people said to be close to the PM apart from Amit Shah, lost his I&B portfolio to Venkaiah Naidu. Moreover, Jaitley's articulate and suave MoS Jayant Sinha has been shifted to Civil Aviation, and got two new Ministers of State in exchange. The message seems to be: focus on finance without distractions.
The elevation of Javadekar is a subtle hint on what kind of ministers Modi likes: the diligent worker who understands what Modi wants and then goes about the job without making waves. Javadekar deserves credit for achieving a fine balance between being business-friendly and yet not sacrificing green objectives, as India's aggressive global commitments on clean energy show. None of Modi's job-creating ministries — Roads, Railways, Infrastructure, and Energy — would have been productive without Javadekar's constructive support.
The next big changes relate to Telecom and Law. The pleasant, but ineffective Sadananda Gowda gets shunted out once again, from Law to Statistics. If there is one change that had politics written all over it, it is Gowda's retention in a Cabinet just for being a Gowda. His presence is important for the Karnataka elections in 2018. Other retentions indirectly related to politics are Najma Heptullah and Kalraj Mishra, both of whom could have been dispensed with after breaching the age barrier of 75 set by Modi. The UP election is the reason for not rocking their boats. The other political signal is the induction of Ramdas Athavale, a Dalit face. Athavale is a concession to Modi's need to woo Dalits and also a message to the Shiv Sena, which has been fuming about being reduced to a bit role in Maharashtra. With the Mumbai municipal elections due in 2017, the BJP and Sena are getting ready to part ways at the municipal level.
The shifting of Ravi Shankar Prasad to Law and divesting him of Telecom sends two signals: one positive, and one negative. The positive one is that Modi wants a heavyweight in the Law Ministry, given the eyeball-to-eyeball confrontation the executive is involved in with the judiciary over senior judicial appointments. Modi wants someone who can both bare his fangs and shake hands with the senior judiciary and get the latter to accept some role for the executive in judge selection and rejection. Prasad gets to keep Electronics and IT as consolation for losing Telecom.
The negative message to Prasad is that Modi doesn't want the Telecom Ministry to be at daggers drawn with the industry, which is a major revenue generator at spectrum auctions. Prasad's regular beating of the drum over call drops, which ended up in a judicial defeat, did not help. Modi wants an effective minister who will listen to industry and help pluck the spectrum revenue feathers gently without hurting the golden goose.
Manoj Sinha, who now gets Telecom, also retains his old MoS position at Railways. This is a vote of confidence in his work, and an invitation from Modi to do even better.
Jayant Sinha's transfer from Finance to Civil Aviation was a surprise, since he was seen to be on top of his job, but this lateral movement may have its own positive implications. Civil Aviation is now again in expansion mode, with the new policy allowing 100 percent FDI and foreign investments in brownfield airports, Modi probably sees airports as the new sunrise infrastructure sector over and above roads, shipping and railways. But Civil Aviation has a Telugu Desam man heading it, and shifting Sinha to the same ministry may mean Modi wants his agenda to be part of the ministry's growth focus.
The other noteworthy features include Venkaiah Naidu swapping Parliamentary Affairs for I&B, and Ananth Kumar getting Parliamentary Affairs as an extra portfolio.
The induction of MJ Akbar as MoS in External Affairs indicates the importance Modi attaches to diplomacy. With Modi himself leading from the front and Sushma Swaraj doing a low-profile but excellent job in the ministry, the addition of Akbar will add heft to diplomacy at a time when India is planning to play a larger role on the global stage. India has its work cut out both in the Arab world, now roiled by terrorism, and in Asia, where the China-Pakistan alliance is a threat to India's rise.
Modi clearly wants performance to be the guiding factor in his ministry. Despite an alleged premium on loyalty, he has not shied away from making changes even in ministries headed by people seen as close to him. The big miss was in Agriculture, a sector that needs very good stewardship given its myriad problems and poor past attempts at effective policy-making. This is a gap that Modi has to plug, for half of India is still dependent on agriculture. He should not leave all the problems to the rain gods to solve.
[Source:- F. Politices]