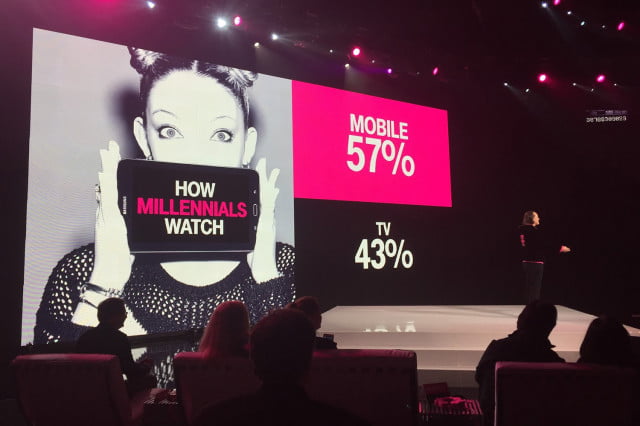 T-Mobile, the self-proclaimed Un-carrier, reported financials worth boasting about on Tuesday.
During the carrier's quarterly review of the fiscal period between April and June of 2016, it recorded $9.2 billion in revenue — up from $8.2 billion, or 12.8 percent, year over year, and better than Wall Street's expected $9.02 billion. Second quarter income was on shakier ground — T-Mobile only managed to rake in $225 million, a dip from $361 million in Q2 2015 — but it beat forecasts and managed to sustain astounding subscriber growth. T-Mobile added 1.9 million customers last quarter — the 13th quarter in a row it's managed to clear the 1 million mark.
"We outperformed the competition again on every key metric, while delivering the best postpaid phone churn numbers in our history," said T-Mobile chief John Legere in a press release. "Quarter after quarter this team continues to deliver results that are the best in the business despite the competition's best efforts to compete."
Related: Bragging rights: 2.3 million people joined T-Mobile's network in the last three months
All the more impressive, a majority of T-Mobile's new customers are postpaid, meaning they signed onto subscription plans rather than opting for the carrier's cheaper, prepaid alternatives. In total, 890,000 customers signed up for long-term tiers — down slightly the quarter slightly from the quarter prior, which T-Mobile attributed to the "absence of iconic device launches in the period." And on the prepaid side of things, 476,000 climbed aboard Team Magenta — up 167 percent year over year, driven in large part by MetroPCS and the carrier's other sub-brands. In total, T-Mobile closed out the second quarter with 67.4 million customers, a climb from 58.9 million a year earlier.
T-Mobile blamed the slight dip in revenue on $1.3 billion in capital expenditures, lower-than-expected income in the year's second quarter, and "after-tax impacts" related to new spectrum it acquired in Q1. But those investments are paying off, apparently. T-Mobile's 4G LTE now covers 311 million people, up from 308 million in the first quarter of this year and 290 million year over year.
T-Mobile's Wideband LTE, meanwhile, a flavor of coverage less susceptible to wireless interference, now covers 224 million people, while its long-range 700MHz A-Block spectrum reaches "more than 200 million people in 350 markets." T-Mobile said it's inked agreements with "multiple parties" to continue the rollout of 700MHz spectrum in the second half of 2016.
Related: T-Mobile is turning its earnings call into a drinking game
In other miscellany, T-Mobile said VoLTE calls were becoming increasingly popular — they represented 57 percent of total voice call minutes on the carrier's network, up 16 percent from the same period a year ago. Device sales and leases totaled 8.9 million, 8.1 million of which were smartphones. And the carrier's T-Mobile Tuesdays app has been downloaded nearly 5 million times.
T-Mobile's Q2 2016 pleased investors, seemingly. The company's stock saw a more than 4 percent pop in pre-market trading Wednesday.
[Source:- DIGITAL TRENDS]