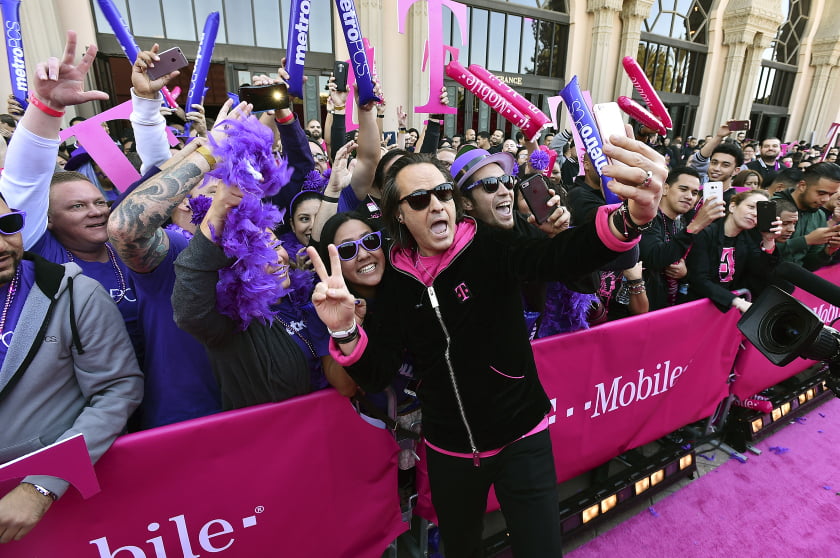 John Legere tells Fortune it's inevitable.
When AT&T tried to buy T-Mobile back in 2011 for $39 billion, the idea was to scoop up a struggling, fourth-rate player on the cheap. The biggest benefit to AT&T was probably the elimination of a low-cost competitor. Antitrust regulators stepped in and blocked the deal.
Subsequent events turned out pretty well for T-Mobile majority owner Deutsche Telekom. They brought in seasoned telecom executive John Legere as CEO in September 2012. The U.S. unit has since gone on a tear,growing faster than any of its rivals through smarter service offerings, savvy marketing campaigns, and the acquisition of MetroPCS. T-Mobile's stock price has nearly tripled since it started trading in May 2013, and the company's current enterprise value, which includes debt, has reached about $60 billion.
In the second quarter, T-Mobile TMUS 1.47% was the only major carrier to increase wireless revenue, reporting a 13% gain that exceeded even what Wall Street expected. AT&T's T 0.94% wireless revenue fell 6.5%, Verizon's VZ 0.93% dropped 4% while Sprint S -7.44% almost held its own, seeing a 0.2% decline.
So no one should be surprised that Legere is now talking about consolidation and mergers on very different terms.
Get Data Sheet, Fortune's technology newsletter.
First, it's a bigger field of potential players than just the current big four wireless companies, Legere tells Fortune. Not only will large cable companies like Comcast CMCSA 1.13% want to break into the mobile market, but also the biggest Internet players, such as Google GOOGL 1.48% and Facebook FB 8.16% , he says.
"Five years from now, we will think it was hilarious," he says of the current fixation on consolidation among only the four wireless carriers. That leading Internet companies will want to get involved is "clearly inevitable," he adds.
But Legere also points to his company's successful run as another changed element in any future dealmaking. The T-Mobile brand now has tremendous value, as does Legere and his executive team. T-Mobile can bide its time, continuing to take market share from its competitors and wait for the other players to come calling, he says.
"Horizontal or vertical consolidation when you don't need to is a whole different game," Legere said.
Legere is well situated to know what Google may aspire to accomplish as T-Mobile worked closely with the search giant on its mobile efforts, starting with being the first carrier to sell an Android phone. More recently, T-Mobile partnered with Google to support its low cost Fi wireless service.
"We've partnered with Google on everything that they've done in this industry going back to Android," Legere says, adding he's "very happy" with how Fi has done for T-Mobile. None of the companies involved with Fi have disclosed how many customers it has attracted or other details.
The cable industry is already openly discussing its wireless strategy. Comcast CEO Brian Roberts told analysts on Wednesday that his company is looking at using a combination of thousands of Wi-Fi access points and mobile bandwidth leased from Verizon to offer wireless phone service.
But, Legere says, Roberts will soon realize—if he hasn't already—that the combination won't hold up. Sooner or later, Comcast will want "ownership economics," Legere says. The public strategy of Wi-Fi and leasing is just "bureaucratic foreplay," the often outspoken Legere adds. "That's how they negotiate—they don't want to raise the price of something that's inevitable."
T-Mobile's stock price has been subject to the occasional volatile gusts of merger rumors. On Wednesday, it got hit by the bizarre specter of an un-merger rumor for a few hours.
After T-Mobile's strong results came out, influential telecom analyst Craig Moffett wrote a report urging investors to stop fixating on merger possibilities and just get excited about the company's fundamental performance. Headlined "When will people stop thinking of (T-Mobile) as a takeover candidate," the report went on to praise the company's "remarkable growth rate."
Some headlines simplified Moffett's message. "T-Mobile Takeover Off the Table," read one. Quickly, T-Mobile's stock, which had opened at an all-time high of $45.85, dropped as low as $44.29, down 2% on the day despite the world-beating second quarter results. The shares bounced around those lows for a few hours, until Legere and his team got on a call with analysts, including Moffett.
"What I said is a little different than what's been reported that I said," Moffett noted on the analyst call when he finally got his turn to speak. "What I said is I wish people would stop focusing so much on M&A and start focusing on how well you guys are actually doing."
That quickly sent the stock back up to a new all-time high of $45.94. For Legere, it's one more indication that he's in the driver seat.
[Source:- FORTUNE]