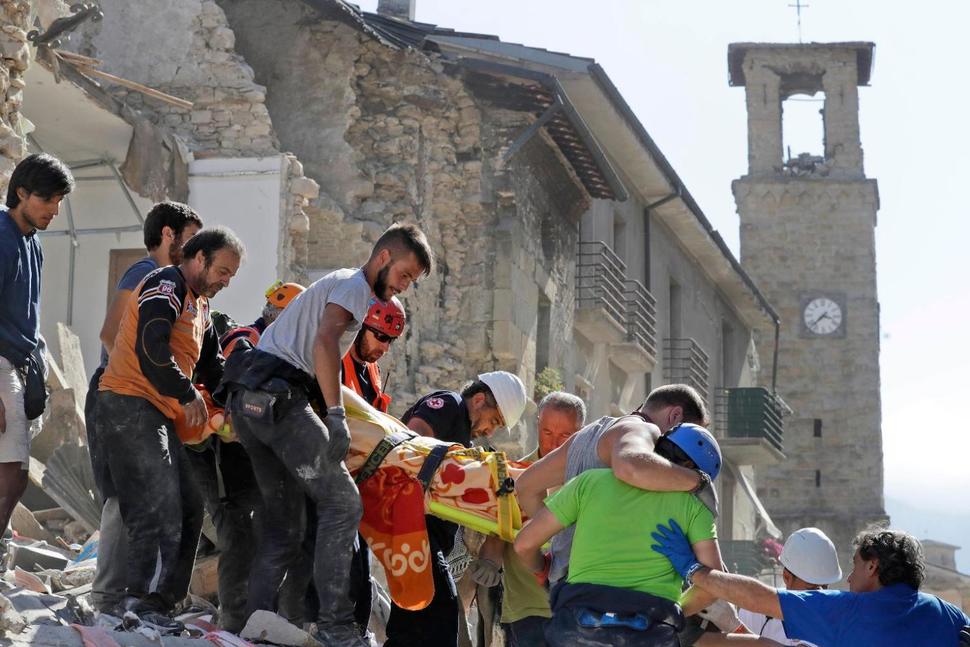 The Latest on the pope's visit to Poland (all times local):
Organizers of World Youth Day, a global Catholic celebration, say that 1.6 million attended an event with Pope Francis in a huge meadow on Saturday evening.
No independent estimates were immediately available.
The event drew a large crowd to a meadow in Brzegi, a village outside of Krakow.
Pope Francis made an unscheduled visit to a Franciscan basilica in Krakow, where he offered a prayer for peace and protection against terrorism.
Father Jan Maria Szewek, a Franciscan, said that Francis made the decision to depart from his set schedule on Saturday afternoon to visit the church uring a visit to Poland.
The Polish news agency PAP reported that Francis paid tribute to two Polish priests killed in Peru in 1991 by terrorists from the Shining Path communist organization.
Szewek said Francis said a special prayer for "peace and protection against terrorism."
PAP said Francis kissed a reliquary with the relics of the two priests, Zbigniew Strzalkowski and Michal Tomaszek. Also present in the church were Tomaszek's two sisters and father and Strzalkowski's two brothers.
Pope Francis has called on hundreds of thousands of young pilgrims to not be "couch potatoes" but to take risks as they seek to build a better world.
Using colorful language, the pope spoke of a paralysis that comes from seeking convenience and from "confusing happiness with a sofa." He warned that such a state would deprive people of freedom and the ability to determine their own fates.
He said: "Dear young people, we didn't come into this world to 'vegetate," to take it easy, to make our lives a comfortable sofa to fall asleep on. No, we came for another reason: To leave a mark."
Francis called Jesus the "Lord of risk," and said: "Jesus is not the Lord of comfort, security and ease. Following Jesus demands a good dose of courage, a readiness to trade in the sofa for a pair of walking shoes and to set out on new and uncharted paths."
Pope Francis asked hundreds of thousands of young people during a vigil in Poland to pray for the people suffering during the war in Syria.
Francis spoke on Saturday evening in a huge meadow outside of the southern city of Krakow following testimony by three young people, including Rand Mittri, a 26-year-old from the Syrian city of Aleppo who spoke about the suffering and death in her homeland from the five-year war that has killed hundreds of thousands and forced millions to flee their homeland.
Later, in a speech, Francis called for prayers for war victims in Syria and elsewhere.
He said: "Today the war in Syria has caused pain and suffering for so many people, for so many young people like our good friend Rand, who has come here and asked us to pray for (her) beloved country."
Pope Francis is watching modern artistic performances that include songs, dancing and historical reenactments that portray Christian virtues and struggles.
To portray forgiveness, actors dressed as the late Pope John Paul II and his would-be assassin Ali Agca re-enacted the pope visited Agca in a prison cell and shook his hand and embraced him.
A ballet routine portrayed the problem of indifference that many people face in the modern world, with a lonely woman seeking human connections but rebuffed by people on computer tables and cellphones.
The performances were part of an evening vigil in a huge meadow near Krakow during World Youth Day, a dayslong global Catholic celebration taking place in Poland this week.
Large numbers of young pilgrims are wandering under a scorching sun into a large meadow near Krakow ahead of an evening vigil with Pope Francis.
Along the road to Brzegi, a village 12 kilometers (7 miles) outside of Krakow, there was a constant flow Saturday afternoon of groups with national flags from places as distant as South Korea, Zimbabwe and Canada.
Groups stopped along the way to rest or to buy food or get water from specially organized points.
Anti-terrorist forces with hand guns and submachine guns were out in force. An announcer over a loudspeaker urged the human flow to keep moving and not block the road.
Deputy Health Minister Marek Tombarkiewicz advised pilgrims to wear hats or have umbrellas for protection from the sun and to drink water.
Pope Francis is resting for several hours ahead of an evening vigil Saturday with hundreds of thousands of young pilgrims in a huge meadow in southern Poland.
The 79-year-old Francis has had an unrelenting schedule since he arrived in Poland on Wednesday for World Youth Day, a global Catholic gathering. He has led Masses, visited Auschwitz, and met with Polish politicians, clergy, sick children and many faithful.
On Saturday he was resting at the archbishop's residence in Krakow after a morning Mass and lunch with young volunteers, and ahead of his evening meeting with the youth, which will include prayers and artistic performances.
Hundreds of thousands of young people are expected to keep a joyful vigil there in anticipation of a Mass celebrated by Francis in the same meadow on Sunday, the crowning event of the five-day gathering. If past years' editions of Youth Day events hold true, many people will camp out there all night.
Pope Francis has had lunch with 12 volunteers at a Catholic youth gathering in Poland.
One of those at the Saturday lunch, Paula Mora of Colombia, said "it was like being with our father, and we were his children."
She said she asked him how he felt at his 2013 election and he replied: "I felt a bit of peace, and I haven't lost this peace."
Mora added: "He is really peaceful, and he is very humble."
Fatima Leung-Wai, of Auckland, New Zealand, said she asked Francis for advice for young people, and he replied "don't give up hope. You are our hope."
The 28-year-old said he told them it was "important to be ourselves in these times, these crucial moments."
Popes traditionally have lunch with a few volunteers at World Youth Day, a global gathering that takes places every two to three years.
A Vatican spokesman says that Pope Francis has met with a child without legs for whom he bought artificial limbs.
The Rev. Federico Lombardi told reporters that the meeting took place Saturday in Krakow during the pope's five-day pilgrimage to Poland.
Lombardi says that Francis was arriving at the Sanctuary of Divine Mercy in Krakow on Saturday when he met with the girl who had been fitted with prosthetic limbs that he had paid for.
Pope Francis is encouraging his churchmen to leave their comfort zones and tend to the needy on the peripheries.
He issued the call as he celebrated a Mass in a shrine in Poland dedicated to the late Polish pope, St. John Paul II. During Mass, the pope said that Jesus wanted his church "to be a church on the move, a church that goes out into the world."
He delivered his words in a large modern church, the Sanctuary of St. John Paul II, in a Krakow suburb.
He said that Jesus' call to his disciples to minister to the world is also relevant today to church men and women.
Francis said: "This call is also addressed to us. How can we fail to hear its echo in the great appeal of Saint John Paul II: 'Open the doors'?"
Pope Francis has prayed at the Divine Mercy Sanctuary in Lagiewniki as he begins a day of religious ceremonies during a visit to Poland.
Nuns and priests, singing and waving little banners, greeted the pope as he entered the church in the Krakow suburb.
He then prayed before the chapel of St. Faustina, a Polish mystic who was canonized under Pope John Paul II, himself now also a saint.
Later he will visit the Sanctuary of St. John Paul II, near the Lagiewniki shrine, consecrated in 2013. The lower church houses the relics of John Paul, while his body is entombed inside St. Peter's Basilica at the Vatican.
Francis is taking part in World Youth Day, a global celebration of young Catholics, during his five-day visit to Poland.
[source:- US News]