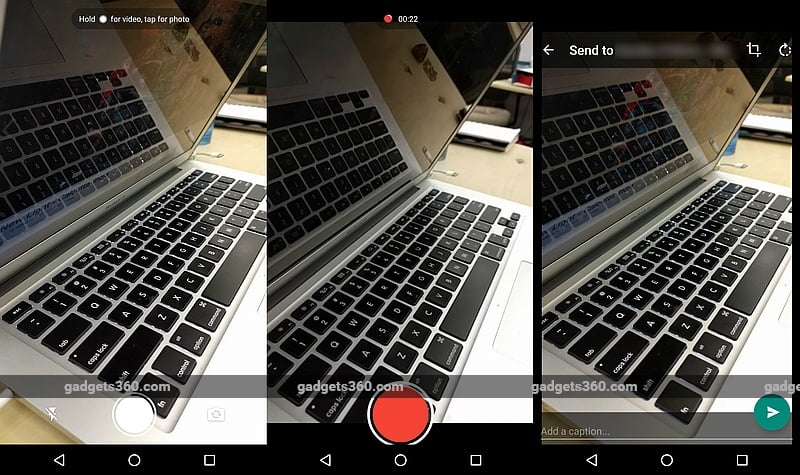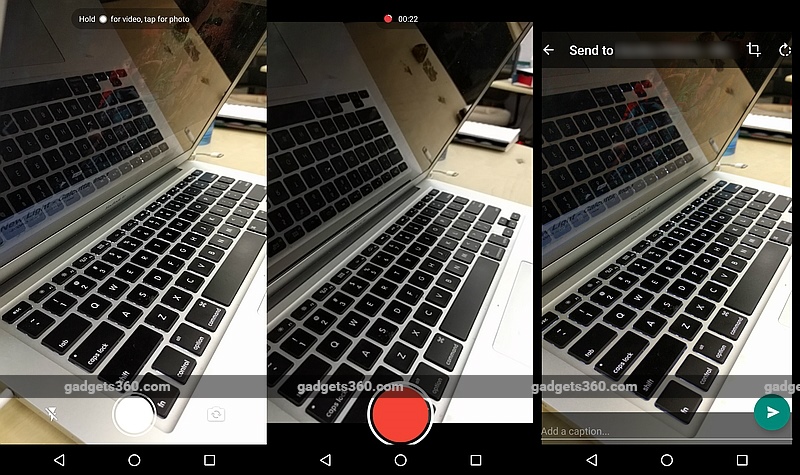 Another day another WhatsApp update is available for Android devices – and once again via the Google Play beta channel. The update overhauls one of the features of the application that has stayed untouched for quite a while – the camera.
The inbuilt camera feature in the WhatsApp Messenger has now been completely overhauled with new user interface and icons. The big blue-coloured shutter button has now been replaced by a similar looking white colour button. New icons for the flash and camera switch buttons are also visible.
While the older app version showed a translucent box at the top of the screen saying, "Send to (contact name)" while shooting an image or a video, the new version now gets rid of it completely, as spotted by Android Police first. There is also a small tip at the top explaining user how to shoot a video. To record a video, all users need to do is to hold the white coloured shutter button, which then turns red as the video recording starts. To stop, they can simply lift their fingers.
The image or video sharing interface has also received minor tweaks. Now the big circular send and cancel buttons have been replaced by a single teal-coloured send button, same which we see in a regular chat window. To cancel, users can tap on the back button placed at the top left corner of the display. The caption box has also been pushed to the bottom, letting users clearly see the complete image.
The WhatsApp update on Android has not yet reached Google Play for regular users. However, beta testers can download app version 2.16.4 and 2.16.5 to see the changes. The updated app for Beta testers can be downloaded as an OTA via Google Play. They can also download and install it manually using the signed apk files shared by APK Mirror website.
[Source:- Gadget 360]