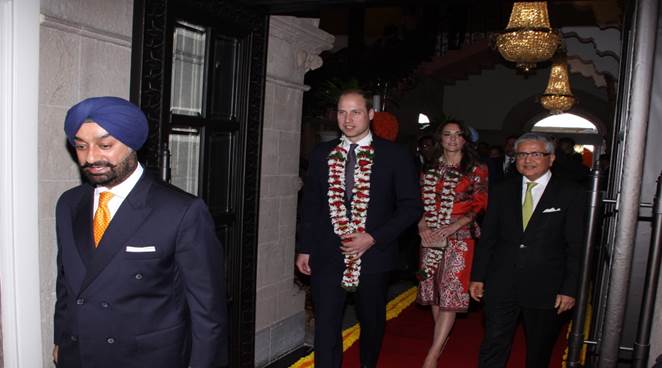 Prince William and Kate Middleton arrived here today on their first visit to India and paid tributes to the victims of the 26/11 Mumbai terror attacks.
The royal couple, who landed in Mumbai shortly before noon, visited the 26/11 memorial at the Taj Palace Hotel here.
They laid a wreath at the memorial and also spoke to the hotel staff who were present when the iconic hotel was attacked in November 2008.
The hotel overlooks the Gateway of India, built to commemorate the visit of King George V and Queen Mary to Mumbai in 1911.
The royal couple arrived here on a seven-day tour of India and Bhutan, aimed at building up strong bonds with the two countries.
They later headed to the Oval Maidan to watch and take part in a cricket match between beneficiaries and
representatives of three charities based in Mumbai – Magic Bus, Doorstep, and India's Childline.
In the evening, they will attend a glittering reception and dinner alongside some of the biggest names in business and Bollywood, to celebrate Mumbai's film and creative industries.
They will go to Delhi tomorrow and begin their tour there by paying respects to India's military contributions and honour the memory of Mahatma Gandhi.
The royal couple will visit the Taj Mahal which Prince William's mother late Princess Diana visited 24 years ago.
"Twenty four years on from her visit to the Taj, The Duke and The Duchess are looking forward to seeing this beautiful place for themselves and creating some new memories as they say thank you to the people of India at the conclusion of their tour," a release said.
The couple will also visit Kaziranga National Park in Assam where they will find out more about the role of
conservation in the lives of rural people there.
The royal couple are interested in seeing how communities manage the conflicts that arise when humans and wild animals live in close proximity. They will also meet park rangers inside Kaziranga to discuss how they protect the animal population from poachers, as demand for rhino horns continues to rise in other parts of Asia.
They will then fly to Bhutan to learn about the beautiful, mountainous country that has famously prioritised the happiness of its people above all other national goals.
[Source:- Indian express]