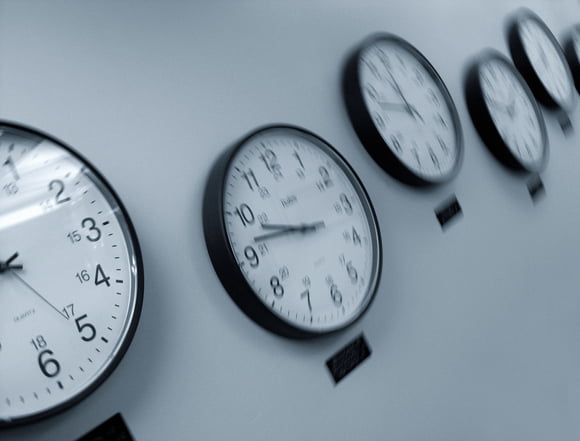 Windows 10's free upgrade deadline officially ends July 29. When we checked on the exact time with Microsoft, however, we learned that some lucky procrastinators will get extra hours to upgrade, thanks to international time zones. Here are the details.
The official deadline for the free upgrade is 11:59 p.m. UTC-10 on Friday, July 29. Time nerds know that UTC stands for Coordinated Universal Time and is the successor to Greenwich Mean Time as the standard for setting clocks and time worldwide. The starting point, UTC-0, includes major cities Accra in Ghana and Dakar in Senegal; Casablanca in Morocco and Lisbon in Portugal; and farther north, Dublin in Ireland and London in the United Kingdom.
You add one hour per UTC time zone moving east over Europe, Africa, and Asia, or subtract hours going west through Greenland and North, Central, and South America, until you hit the midpoint in the Pacific Ocean. New Zealand, Fiji, and the Marshall Islands, plus a far-eastern tip of Russia, sit on the UTC+12 side, while U.S. territories Baker Island and Howland Island sit on the UTC-12 side. Other islands in the area run up to UTC+14. We also have to allow for Daylight Standard Time (DST), which adds yet one more hour in the summer in the United States and many other places. This handy page on Timeanddate.com shows you all the time differences worldwide for this event.
Kiribati wins, Hawaii loses
What this means for the Windows 10 free upgrade is that everyone in UTC-10 gets a pretty raw deal. Hawaii, parts of French Polynesia, Alaska's Aleutian Islands, and other places in that time zone are done at 11:59 p.m. on July 29. The rest of Alaska, however, is in UTC-9 and therefore gets an extra hour, plus one more hour for DST—in short, until 1:59 a.m. Saturday, July 30. The west coast of North America—including the Yukon and British Columbia in Canada; all the westernmost United States including Idaho and Nevada; and Baja California in Mexico—falls into UTC-8 and gets one more hour, until 2:59 a.m. July 30. Move all the way over to UTC-5, which covers the eastern seaboard of the United States, and the actual deadline there will be 05:59 a.m. July 30.
The best places to procrastinate on the Windows 10 free upgrade will be the UTC+12 to UTC+14 regions, with 22 to 24 extra hours. The lucky locales in UTC+12 have until 9:59 p.m. July 30. Kiritmati Island in Kiribati is a UTC+14 grand-prize winner (11:59 p.m. July 30). The biggest losers are U.S. territories Baker Island and Howland Island site on the UTC-12 side, but as they're uninhabited by people, no one will care that the upgrade ends early there, at 9:59 p.m. on July 29.
[Source:- PC ADVISOR]