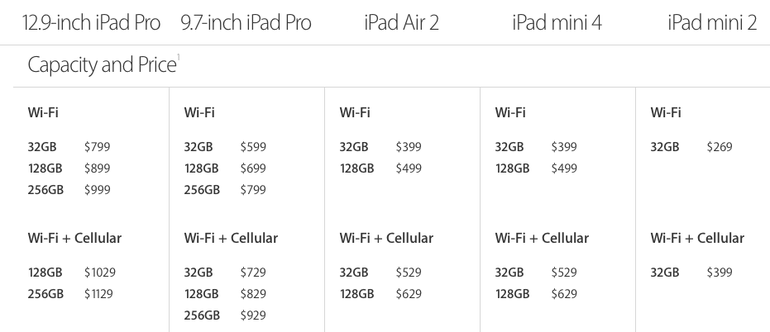 Apple might not have mentioned the iPad at yesterday's iPhone 7 and Watch 2 launch, but the company quietly reshuffled its existing iPad lineup, introducing more affordable storage and killing off 16GB options.
Just as Apple made 32GB as the minimum storage capacity for the new iPhone 7 and 7 Plus, the new entry level for existing iPads is now 32GB, however its entry level pricing remains unchanged.
The new pricing applies to the iPad Mini 4, iPad Mini 2 and iPad Air 2, which now cost the same as the old 16GB tier did. This representing an effective price cut of $100 for 32GB storage. The iPad mini 2 is also now only available with 32GB and costs $269, again the same as the old 16GB option.
The price cut and removal of 16GB storage options is likely welcome news as this was not enough to cope with photos, videos and apps.
Apple has also removed the 64GB tier for the iPad Air 2 and iPad mini 4, which have been replaced by 128GB options for each model. Similarly, 128GB storage now costs the same as the old 64GB tiers, which were $100 more than the entry model.
With this new price list, the 32GB and 128GB versions of the iPad Air 2 and iPad mini 4 cost $399 and $499, respectively. The cellular versions of each model remain $129 more than wi-fi only models.
Apple also cut $100 off the 256GB 12.9-inch iPad Pro and 9.7-inch iPad Pro, which are now available for $999 and $799, respectively. The price of the 128GB options for both models have dropped by $50 to and $899 for the larger iPad Pro and $699 for the smaller iPad Pro, with entry level 32GB options for each remaining at $599 and $799, respectively.
[Source:-ZD net]