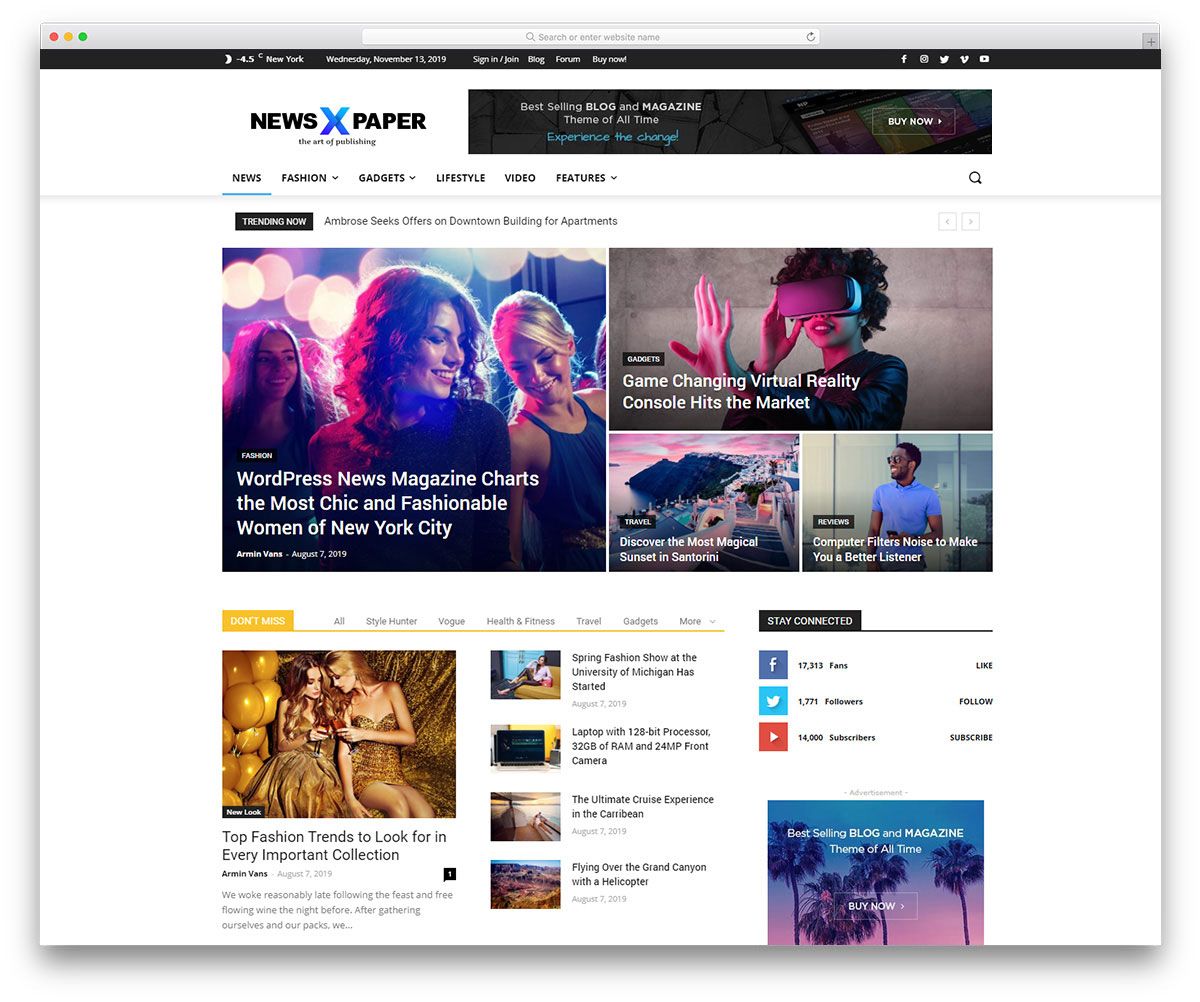 I'm sure you have seen tech blogs such as The Verge, Engadget, Techcrunch, Android Authority, Cult of Mac and wondered how you could create websites like these?
The only two things necessary are basic knowledge of WordPress (no coding required!) and a killer theme.
The following list presents the most popular and reliable solutions that call for speedy website creation.
You can also customize each theme to fit your needs using popular drag and drop website builders such as Elementor.
Pick the theme that fits your style best and off you go!
(You won't believe how simple building a tech blog is.)
Best Tech Blog WordPress Themes
Newspaper (Most Popular)
If you wish to create a successful tech blog, Newspaper is a perfect choice. This WordPress theme offers game-changing features.
Newspaper includes tagDiv Composer, the first-page builder designed for blogs and magazine websites.
You can drag, drop and arrange 1300+ elements and see the changes happening live.
Newspaper theme comes with technology that makes your website faster than ever for any screen device. Also, Newspaper is Google AMP ready.
Appreciated as the best theme for news and magazine websites by the industry critics, Newspaper brings you all the features for effortless website creation.
Soledad
It has a simple and easy-to-use set of tools, features, plugins and templates designed to empower everyone to create and construct the most amazing professional quality websites around.
Soledad has 250+ custom-built, unique demo homepages, customizable in 1,000s of ways so you are truly in control of your website's presentation.
Soledad is the best tech blog WordPress theme on the market.
Gillion (Trending Item)
Gillion is the perfect theme you can use for your tech blog in case you have little or no experience with WordPress and website administration.
This theme's social media support is designed to assure every post will reach the audience of your website, regardless of which social platform they might be active on.
The Gillion theme has increased responsiveness for Google Ads and several areas for banners. It is easy to use while offering all features needed for a successful online publication.
MagPlus
MagPlus is a WordPress theme ideal for technologically oriented pages.
To start with, you get Google AMP which improves SERPs & SEO. It is the best option to optimize clients' or readers' mobile browsing experience.
MagPlus' library has unlimited layout possibilities! Get crafty with 40+ demos and 160+ handcrafted elements. MagPlus is integrated with premium plugins as well.
Enjoy the flexibility of Yellow Pencil, Style Editor, SEO, widgets, and WooCommerce. Make the most avant-garde website and dazzle your visitors!
Choose the demos attuned to your tech and selling needs with just one click! Initial setup and building are quick with MagPlus.
Compass
Compass is a sophisticated WordPress theme that can handle many news and magazine project needs.
It allows you to make it your own while simultaneously drawing in viewers and focusing them on your precious images and content, thanks to its carefully crafted samples.
Start bringing traffic home with Compass! Compass makes full use of the powerful ZOOM Framework, Dynamic Homepage Builder, Live Customizer and Touch Slideshow to create customized homepages.
Powerful tag and category features let you organize and sort your posts easily for your viewers' convenience.
Use the Jetpack plugin for added functionality, including Tiled Galleries, Related Posts, and numerous other Sidebar Widgets.
Jannah
Jannah is a powerful WordPress news theme with many pre-made demos you can import with a single click.
One of them is Tech News. Your content will be mobile-optimized, loading fast everywhere with the Accelerate Mobile Pages (AMP).
Jannah is optimized with full support by the Yoast Plugin and SEO support. Therefore, you can get more visitors through search engines.
Getting Jannah you can easily set up discussion forums with bbPress integration.
It has 1,000+ font options, pre-skinned demos, unlimited header styles, and multiple layouts.
Also, you have a dedicated advertiser space, WooCommerce, and translation ready. If tech news is your business, Jannah is for you.
Herald
Herald is a high-quality WordPress theme for users who wish to create a tech blog.
The setup process is accessible and intuitive. Even novice clients will be able to craft fully functional pages in a matter of moments.
Many online publications can also distribute physical copies. Herald can accommodate that distribution, as it has integrated WooCommerce. (Create an online shop!)
The theme has a completely modular header area, ensuring styling it your way is piece of cake.
You can place advertisement banners on individual article posts, archive pages, or homepage. The creators also added a live demo for clients who wish to sample Header.
Sway
Create a leading technology blog with Sway and all the specialties that the package includes. There's a demo that helps create a modern blog, which you can additionally modify and fine-tune to your liking.
Still, the default configurations are very flexible, easily suiting many users' needs.
Carousel, footer reveal feature, floating navigation, Instagram widget, and newsletter subscription are just a few of Sway's treats in store.
You can start publishing compelling content quickly, even if you are setting up your very first blog. FYI, Sway will never ask you for coding knowledge.
PenNews is a potent WordPress tech blog theme with a sharp set of tools for crafting unique news outlets.
General, world, entertainment, or niche market news fits with PenNews.
Build pages like a pro with WPBakery, without any coding. Get your news articles tracked on social media with sharing counters and buttons. Plus, Google AMP and Facebook Instant Articles provide the ultimate mobile efficiency. (Keep server costs low and reach a broader crowd.)
PenNews incorporates gorgeous galleries and portfolios.
Monetize your news outlet with endless ad spaces, in-feed ads, and more. PenNews is everything your news magazine needs to succeed!
MagOne
MagOne is a colorful and attractive responsive WordPress news and magazine theme.
It has sophisticated, cutting-edge tools and features you will need in order to swiftly and effectively construct a slew of diverse online magazines and blogs.
The initial setup of your MagOne fashion magazine is as easy and uncomplicated as a one-click import process with a wealth of demos.
At the same time, the robust Sheeit Framework offers a drag and drop interface for quick customization.
Page and post-advanced theme options put you in charge of your fashion magazine's aesthetics and presentation every step of the way.
Keep your audience marveled and amazed with MagOne.
Saxon
Saxon is a fantastic technology news WordPress theme that gets you going in a snap of a finger.
It is a multi-concept theme for online magazines and blogs of all niches. And you can take things to a whole other level if you incorporate your signature touch into it.
To create a modern and high-performing technology news page, Saxon is at your service with all its perks that you unlock after downloading it.
Saxon also supports Google AMP, Gutenberg, and other valuable and practical goodies that will put you on top. Combine it with your compelling content and start building a loyal following.
Suga
For a technology news WordPress theme, Suga is one of the alternatives that will do you extremely well.
While you can utilize Suga out of the box, you can also style it further. After all, do not hold yourself back and personalize and brand the default look according to your directions.
No need to undergo any heavy lifting, thanks to BKNinja Composer. Yes, the drag and drop page builder requires no coding knowledge.
Extra specialties of Suga come in the form of a mega menu, sticky sidebar, review system, advanced post functionality, and social sharing.
The layout of Suga is also responsive, SEO-ready, and fast loading. Create an unforgettable experience that will make visitors want to come back.
Papr
Due to the versatility of Papr, you can easily employ this tool as a technology news WordPress theme.
Prior experience is not a requirement when doing the work with Papr. (It will never ask you for programming knowledge.)
Papr comes integrated with Elementor that unlocks the process of dragging and dropping.
That's not all.
With the technology-specific pre-defined demo, you can have your full-blown news page all set in a breeze.
Additionally, you get loads more internal pages, different header styles, live color customizer, and working contact forms. You are ready to make an immediate difference with the one-minute setup.
Ceris
Ceris is an all-around magazine theme that works for technology news easily. It even comes with dedicated demo material, which helps you kick-start your project with a click.
For your information, Ceris rocks more than forty samples, covering pretty much anything and everything.
If you would like to introduce your creative twist to Ceris, you can do that, too. There are tons of unique features to Ceris that will level up your tech news site.
From emoji reactions and customizable spacing to mega menu in sidebar, reviews, and AMP support – Ceris truly is a grand WordPress theme.
ZoxPress
ZoxPress is a technology news WordPress theme that misses nothing. It is packed with an array of designs and elements for you to combine into a powerful outcome.
ZoxPress also uses only the latest technologies and comes optimized for first-class performance. Many demos are ready-made, but you can customize them to your liking as well.
Parallax inline ads, tons of header options, sticky elements, bbPress compatibility, Facebook/Disqus comments compatibility, and ZoxPress overpromises and over-delivers.
The documentation and professional support team are also always available, so you never feel lonely on your journey to success.
Newsblock
Newsblock is a clean and modern tech blog theme with an integrated dark and light switcher. The ready-to-use demos ensure you start working on your new project with the snap of a finger.
Also, there is no need to stick to default configurations. Instead, fine-tune Newsblock further with the practical codeless editing process.
Pixwell
With Pixwell, you can start a technology news website comfortably.
Pixwell is a powerful, practical and easy-to-use WordPress theme with a wide range of different features and functions. There are many samples at your disposal to start on the internet as fast as possible.
But use the advantageous Elementor page builder for any extra tweaks and improvements.
Other creative treats of Pixwell include read it later function, quick translation, different post formats and features, Ruby newsletter system, and view counter.
Last but not least, Pixwell also supports the WooCommerce plugin, offering you to expand your news page with an eCommerce section. Do your thing and start spreading the word out with Pixwell.
Blogxer
Creativity knows no bounds and neither does Blogxer. This technology news WordPress theme is perfect for bloggers and soon-to-be online magazine owners.
On the other hand, if you are interested in redesigning your existing news page, you can do that, too. Many front and inner page layouts are available, so you do not need to build anything from scratch.
There is also a fully functional tech demo ready-made but you will have a breeze altering others. There is no need to stick to the default setting when knowing that Blogxer is entirely customizable.
Blogxer is an all-in-one kit for technology news pages. Create a custom header and footer and do not miss adding the online store section if necessary.
Telling
Telling is a technology news WordPress theme out of the box. The tool comes with multiple ready-to-use demos for all sorts of niches, generic news pages, too.
With that in mind, go as niche-specific as you want even with a demo that works for something entirely different by default. The handy WPBakery page builder can modify and alter Telling without coding skills.
Telling's features include a smarty sticky menu, custom post and reading times, sticky sidebar, child theme, MNKY core, and more.
You can also monetize your tech news page with ad placements and turn your website into a money machine.
Gorgo
If you fancy minimalism and cleanness, you will dig Gorgo undoubtedly. It is a versatile and multi-purpose blog and magazine WordPress theme with great attention to detail.
Indeed, you can employ Gorgo for your technology blog, too. Kick things off by choosing the pre-defined demo that suits your taste best. You can also go with a light or dark layout.
Besides, Gorgo even has an addition of an online shop!
Gorgo comes with Paid Membership Pro plugin, which will help you monetize your blog. In one kit of goodness, you have all the necessities that will take your idea to new heights in the form of a tech blog.
Barta
Barta caters to many ideas and helps you realize them fast with the 7 ready-to-use demos.
It is a technology news WordPress theme that creates a fantastic space for writing about gadgets, announcing new product drops and all in between.
The limits are none with Barta, use your imagination and stand out a mile!
Flex Mag
Flex Mag is a minimal and customizable WordPress tech blog theme. It is crafted to deliver the best overall magazine theme ever created.
It is also a fantastic tool that's well outfitted for handling the basic needs of a great variety of website archetypes, from online stores to personal blogs, from portfolios to social forums.
Suppose you are the webmaster of a magazine website. You need to create your website in a visually impressive, technologically sophisticated way to bedazzle discerning, demanding visitors that are quickly distracted.
In that case, Flex Mag is the theme for you. It is easy and painless to install and use.
Sahifa
Considering the importance of a website in today's business environment, you cannot afford to present a mediocre page. Thankfully, Sahifa is a WordPress theme that refuses to be bland.
Sahifa has many customization options. It incorporates the drag and drop builder, allowing easy personalization.
You do not need any programming or coding knowledge to use this theme.
Site administrators can either enable or disable their sticky navigation menu. They can also modify every post's typography by accessing the theme settings.
Pages can feature background adds, offering a boost in revenue. In addition, your readers can give you direct feedback, due to the built-in site review system.
["source=colorlib"]