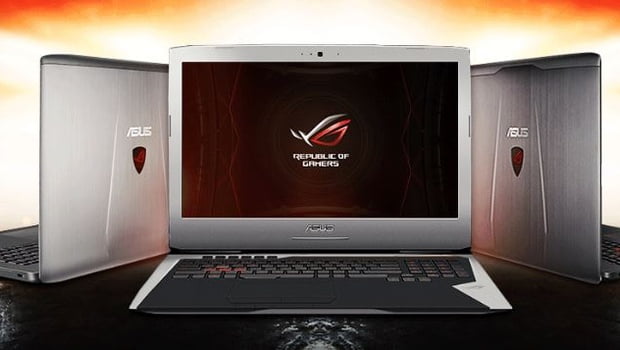 NEW DELHI: ASUS 'Republic of Gamers' (ROG) today announced the launch of the world's first liquid cooled laptop ROG GX700 in India.
The premium flagship laptop comes with a detachable ROG-exclusive Hydro Overclocking System cooling module and is powered by the sixth-generation Intel® Mobile K-SKU ('Skylake') processor and NVIDIA GeForce GTX 980 graphics card to give users desktop-grade power at home.
It also enables ultra-fast performance on the go. GX700 is world's first 17-inch real 4K UHD gaming laptop to feature NVIDIA G-SYNC for smooth, stunning visuals.
The laptop comes neatly packed in specially made ROG themed briefcase.
The Hydro Overclocking System provides unmatched cooling capabilities and opens up the possibility of superior over-clocking.
The CPU can be over-clocked up to 48 percent and the 64GB DDR4 memory can be over-clocked by up to 43 percent. With abundant power at disposal, it would only make sense that ROG included a 4K Ultra-HD display with G-SYNC for detailed and smooth visuals.
The GX700 features a liquid-cooling dock based on a custom self-sealing valve design, a quiet and highly reliable pump, and dual 92mm radiators capable of dissipating over 500W of heat. The GX700 also packs traditional cooling and can be run without the liquid-cooling dock.
The company also unveiled its latest ROG Strix GL502, a compact 15.6-inch gaming laptop with a stunning 4K display that delivers breathtaking visuals. Equipped with the latest quad-core Intel® Core™ i7 processor and a dedicated, up to NVIDIA®  GeForce®  GTX 980M GPU, Strix GL502 is a gaming powerhouse that delivers smooth performance and highly-detailed graphics with even the newest, most demanding titles.
Combined with its lightweight, ultra-portable design, Strix GL502 enables users to enjoy high-end gaming anywhere. The notebook is available for sale across all Asus channels and exclusive stores.
Asus recently launched the new line up for its flagship 'Republic of Gamers' (ROG) series in India, namely ROG G752VY laptop, gaming desktops G20 and GT51, GL552VW and G551VW mainstream laptops and ROG G501VW.
[Source:- The New indian Express]