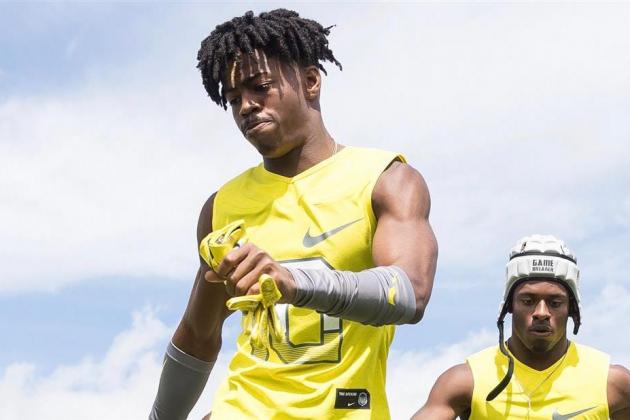 The month of August signals a variety of things from a football perspective. The NCAA quiet period kicked off Monday, but from a social media standpoint, coaches took advantage of the new rule allowing them to interact with athletes via social media sites.
Coaches, per the NCAA, "may take actions (e.g., "like," "favorite," republish, "tag," etc.) on social media platforms that indicate approval of content on social media platforms that was generated by users of the platforms other than institutional staff members or representatives of an institution's athletics interests."
As early as 12:01 a.m. ET Monday, assistant coaches were seenretweeting a flurry of random tweets from some of the top athletes in the 2017 class. Per the Athens Banner-Herald, Georgia offensive line graduate assistant D.J. Looney retweeted 11 commitments or targets.
He wasn't alone. Even a few head coaches were on Twitter in the early hours of the morning, including Miami's Mark Richt, Nebraska's Mike Riley and TCU's Gary Patterson, taking advantage of the social media opportunity.
For those who follow recruiting, this new rule can be seen as a positive, as coaches aren't allowed to speak about prospective athletes until after they sign a national letter of intent. This allows the casual recruiting fan to see which athletes college coaches really are interested.
And, ultimately, this could be a good thing for athletes looking to impress coaches.
On the other side of the coin, this could be viewed as a train wreck waiting to happen. Will this be another way for recruits to be harassed regarding their recruiting processes? Will this be a regular occurrence where coaches retweet athletes at all hours of the night?
These are some of the questions that will be answered in the upcoming weeks. Recruiting has hit a new level, and there are several athletes who college coaches will be watching with every Twitter orInstagram post.
Here's the latest news on a few commits and targets who could receive a retweet or two from multiple coaches nationwide.
When it comes to Florida State recruiting, 5-star cornerback commit Stanford Samuels III is treating the art of targeting players like it's a buffet.
And the Hollywood, Florida, standout is hungry. Very hungry.
When asked if there was an athlete he's focusing on to add to Florida State's growing 2017 class, Samuels emptied his mental index and said he's looking for a few players to call teammates following high school.
"Definitely Marvin Wilson, Cam Akers, Jerry Jeudy and Donovan Peoples-Jones," Samuels said. "And I'm starting to get on Jeff Okudah."
It's a nice list for Florida State's top-ranked pledge, and as a leader of the class, Samuels said he's determined to do his part in adding stud recruits in time for February's signing day. Samuels said he keeps his recruiting pitches straightforward, but he makes it a priority to sell everything about playing for the Seminoles.
"I don't like anyone lying to me, so I'm not going to lie to them,"Samuels said. "Whatever they want to know about the program, I'll tell them. I talk about the city and the fans most of the time.
"A lot of the guys already know a lot, and in some cases, some of those guys will hit me up first. I think I can get a couple more than those guys I named, but I'd consider getting one or two to commit a home run."
Florida State currently has a top-10 nationally ranked class. Of the 11 commits, nine are rated as 4-star pledges or better. Samuels is the program's lone 5-star commit.
4-star DE Vilain ready for BBQ at the Big House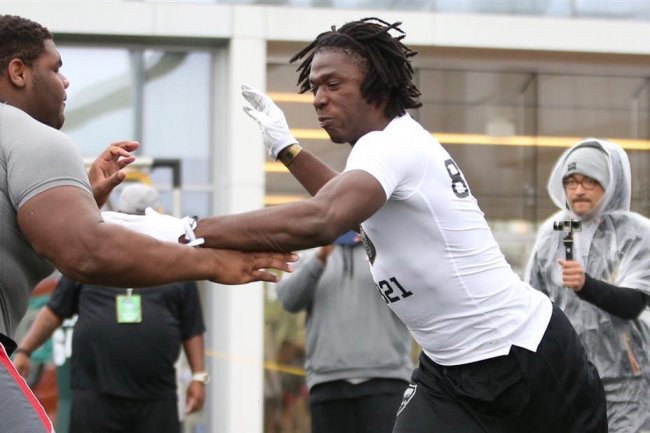 Credit: Student Sports
BBQ at the Big House is one of the biggest recruiting weekends for the Michigan Wolverines. The event, which will take place Saturday, could be exactly what Michigan needs to break out of a minor recruiting slump.
Among the multiple athletes planning to attend is 4-star defensive endLuiji Vilain, who committed to Michigan on June 12. He reiterated to Bleacher Report on Sunday that he was "100 percent" with his commitment, and he said he's excited about Saturday's event.
"Our class right now is pretty strong, but there are still some people we want to get," Vilain said. "I feel like it [the event] is the perfect place to talk to a few guys and get them committed."
Vilain, from Alexandria, Virginia, said he's focused on a few targets, including 5-star wide receiver Donovan Peoples-Jones, 4-star wide receiver Nico Collins and 4-star defensive tackle Jay Tufele. Vilain said selling Michigan isn't tough—"as long as you like to win."
"I give them the academic pitch. Michigan is one of the best schools academically," he said. "Our coaching staff is one of the best. I believe that, and our teammates believe that. The coaches believe in winning, and if players don't want to join that, they don't like winning, plain and simple."
Michigan's 2017 class has 18 commits and is ranked No. 7 in the latest247Sports Composite team rankings.
Can Texas outrecruit out-of-staters for 3-star Daniels?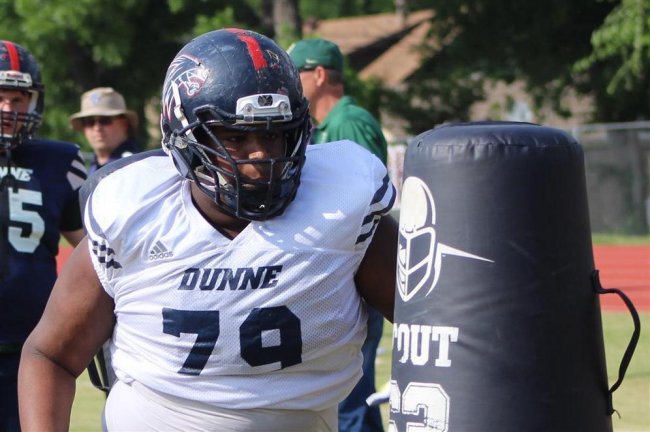 Credit: 247Sports.com
Dallas 3-star defensive tackle Damion Daniels announced a top 12 via Twitter on June 14. On Sunday, Daniels said he's now focusing his attention on nine schools—Iowa, Nebraska, Florida, Colorado, Ole Miss, Mississippi State, LSU, USC and Texas.
The one noticeable thing about Daniels' list is the lone in-state school. If Daniels chooses to stay close to home, Texas will be that school that lands him. Daniels, however, said all nine of the schools are running at equal pace in his recruitment.
"I like all the schools, but these [nine] are the ones actually standing out for me," he said. "I'm looking for a family-type environment, and with the players, I'm looking for a brotherhood. I want a school that loves its community and one that backs its football team. Plus, I want a school where I know I'll get a great education."
Daniels is the younger brother of Oklahoma State defensive tackleDarrion Daniels and the son of former Texas Tech standout Tony Daniels. He's ranked a top-50 defensive tackle nationally and can play either the three-technique or one-technique positions at 6'1″ and 315 pounds.
If the Longhorns can win a competitive recruiting battle against the multiple out-of-state schools, they will get a savvy defender on the line who is entering his senior season with a new focus, a businesslike attitude and a lot more tenacity.
"Texas is the home state. Growing up, we always watched the Longhorns play," Daniels said. "They've got a coach in [defensive analyst] Will Carr; he went to high school with my mom, and he's known my dad since I was young. He's been real with me. He feels like I should dominate every play. I appreciate what he says."
JUCO OT Traore eyeing 4 for official visits
As the nation's No. 2 junior college offensive tackle and No. 9 JUCOplayer overall, ASA College 4-star Badara Traore can be an immediate answer for a variety of teams at both the left and right tackle positions. He's a long lineman at 6'8″ and 315 pounds, and he plays with a high level of intensity suitable for next-level competition.
Traore has 18 reported offers and said he's looking into finalizing plans for an official visit schedule. On Sunday, Traore said Florida, Auburn, Georgia and Oklahoma are in great positions to receive an official visit in the fall.
"I like what they do when it comes to offensive linemen and how they treat them," Traore said. "I like the way they play football. Those four are big offensive linemen schools. I can see myself there."
Traore, who added that he will be a spring signee and not a mid-year transfer, said he's excited about the upcoming official visits because he's yet to visit the campuses. If the four schools stay in tact, he'll still have one more official visit to take, and he said he's leaving that open for a school that may sneak in last minute.
"I'm waiting for a few schools to offer that I've been talking to but haven't offered yet," Traore said. "I want to make sure I save one visit for that school if I need it."
Originally from Hyde Park, Massachusetts, just outside of Boston,Traore defines himself as someone who "takes pride in the craft." He's a student of the game and focuses on run blocking and pass blocking. He has good feet and uses his length and strength to frustrate defensive linemen.
Traore said he doesn't have a set date for when he'll commit, but he knows what he wants in a winning program.
"I'm looking for a school that's big on academics and athletics," he said. "I also want a school that takes pride in football, someplace that's a big-time football school with crazy football fans. I just want a place where I feel like it's home."
[source:- Bleacher Report]