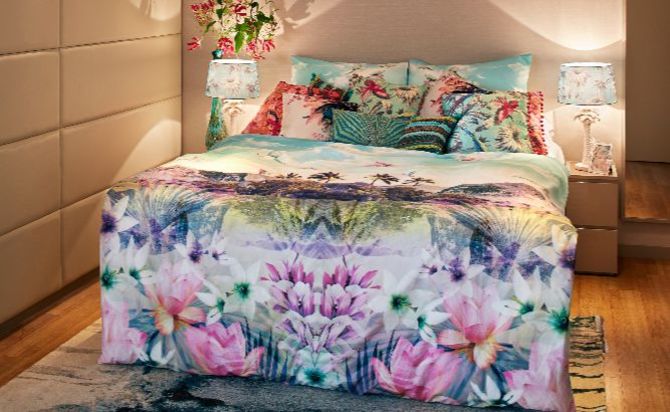 Summer has arrived at Cheval Three Quays, the luxury five-star apartment hotel situated in a fabulous location adjacent to the Tower of London, with sweeping views of the River Thames, Tower Bridge and the Shard.
As part of a yearlong partnership with Designers at Debenhams, this season's designer in residence is Matthew Williamson, who has taken the blank canvas of a luxury two-bedroom apartment and transformed it into a vibrant paradise reminiscent of dreamy, exotic travels, with a modern Cuban twist. His collection, which celebrates the Arts and Crafts movement with historic prints and turn-of-the-century-inspired symmetry, is brimming over with pineapples, peacocks, patchwork layering, beautiful beaded cushions, and exotic birds.
Matthew Williamson, who attended the opening, said "I've loved interior design as long as I have fashion design, so working on my homeware collection for Debenhams is a real passion project.
"Dressing Cheval Three Quays this summer with my collection is a great opportunity, as it enables all guests to experience the DNA of my lifestyle brand."
The initiative was launched with Ben de Lisi in March, and will see further designers, including Abigail Ahern, Julien Macdonald and John Rocha, dress the apartment in their own inimitable style.
The gorgeous colours will lift the spirits, whether your employee is down from Newcastle on a business trip or needing an extended stay. For spouses and families, this is a chance to celebrate the holiday season and enjoy the excitement of London living while their partner gets on with corporate business.
Matthew Williamson fans will love the look, which he has created in exquisite detail throughout every room.
Don't worry if this apartment is already booked: Cheval Three Quays has a range of stylish apartments which are ideal for business travellers and those on a longer international assignment, or for filling the gap until a long-term property becomes available. And they're now pet friendly, too.
Brands aligning with brands
The collaboration with brands is an idea that's taking off in the serviced apartments industry. As we have reported before, Frasers Hospitality is working with Mercedes, beginning the association with theMercedes-Benz Living @ Fraser apartments in London's Kensington, and now also featuring in Singapore.
This alliance of brands is clever positioning that states the ambition of the global Frasers brand and roots it in a context of European precision engineering.
As business increasingly crosses over into pleasure, it can be a win win win – for the business user (who is also a consumer), the promoting brand, and, of course, the serviced apartment company, which is providing something a little different to keep its offering on the radar.
[Source:- Relocate]