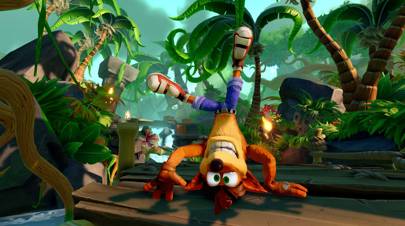 When Skylanders Imaginators launches in October, it promises to be the most versatile instalment for the toys-to-life franchise yet. While distinct characters and physical toys remain a core part of the game, the big hook is allowing players to create their own, highly customisable Skylander.
That's fine for younger players – but developers Toys for Bob and Vicarious Visions have a treat in store for older ones too: the return of Crash Bandicoot, just in time for the mad marsupial's 20th anniversary. The character first appeared in an eponymous 1996 platformer on the original PlayStation, but hasn't been seen in a console game since 2008's Crash: Mind over Mutant.
Now, he's back, battling through the Skylands alongside fellow '90s platform hero Spyro the Dragon, and in an unlikely twist, teaming up with his arch-nemesis Dr. Neo Cortex.
"It just seemed like such a wonderful venue to bring back these beloved characters," Jennifer Onealstudio head of Vicarious Visions tells WIRED. "Many of us played Crash when we were younger, and now we have our own children, and the idea of us being able to play together with our kids an introduce characters that we love and knew to them is kind of a big deal for us."Both Crash and Neo will be getting their own Skylanders toys, each with moves evoking their earlier appearances. Cortex, for instance, can mark out enemies with an orbiting laser weapon, while Crash has a yo-yo vortex attack. They'll also have their own dedicated part of the game – the Thumpin' Wumpa Islands, which pulses with music and is under threat from Skylanders arch-villain Kaos, forcing the former enemies to team up."There was a lot of love and care put into [the Crash] level," says Oneal. "We have a long history with the character at Vicarious Visions – working on Crash Team Racing back in the day, and many other games – and there's still people from that team that are working on this particular level with these characters. I think you can feel the level of detail that pays homage to Crash and Neo."
"Also, when you're looking at integrating characters into your world, you need to find characters that make sense, not only in how they behave – Crash is crazy and physical, with lots of aggression and wildness, and that makes sense with Skylanders; they're semi-monstrous heroes – but also just the pacing, how fast they move through the world." adds Paul Reiche, studio director of Toys for Bob. "You have to be careful and thoughtful about what's going to fit into your world and succeed there. I think Crash and old Neo do just fine!"
Bringing Crash and Neo to 2016 meant updating the characters' visuals, too. Partly, that was down to the age of the original games. "Honestly, if you look back at the old games, the definition and resolution of the details are certainly not what it is today," says Oneal. "But we weren't interested in remaking these characters as something completely new, we really wanted to stay true to their original form."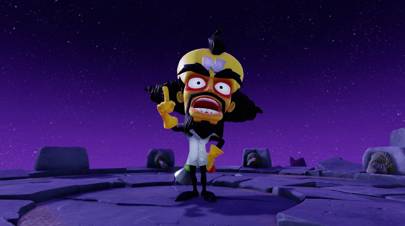 To bring the pair up to scratch, Vicarious Visions went back to some of the earliest materials for Crash Bandicoot, including original concept art from when the character was known as 'Willy the Wombat' – a name that thankfully never stuck.
"[We tried] to make sure that we're following the shape and definition of Crash from the original games – it's almost as if you looked at the old games and suddenly you had clearer vision, and everything sharpens in," says Oneal.
The result is a sharper, cleaner visual for the character, while still looking undeniably like Crash. In game, he plays similarly to any Skylander, until you start unleashing his attacks – hammer away at the basic punch move, and he'll trigger his familiar spin, taking down enemies and errant crates alike.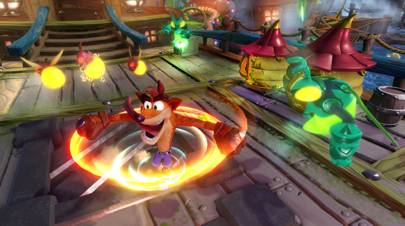 While neither Reiche nor Oneal would be drawn on whether theSkylanders showcase for Crash heralds a new standalone game for the colourful hero, Oneal did offer that working on the upcomingCrash Bandicoot Trilogy Remastered was "a really deep education in what makes Crash Crash."
"It's essentially given us the keys to pay proper homage in thisparticular game," stressed Oneal.
Crash doesn't totally dominate 2016 for Skylanders though. This autumn will see the launch of Skylanders Academy, an animated series headed up by former Futurama writer Eric Rogers.
"You can's tell the same story in different mediums, and we're dealing with artists and people who are storytellers, so we really want to engage their core talents and let them run with it," Reiche says of the upcoming show.
"You'll be seeing things in the show that you've never seen before in the games or comics, but you'll recognise the characters, you'll recognise it as Skylanders," Reiche continues. "For us, it's about the art style, the humour style, and then just making sure that Kaos is Kaos, Eon is Eon, Spyro is Spyro. Once you have those nailed down, then you can allow the individual artists bring what they want to it."
Skylanders Academy launches on Netflix this autumn. Skylanders Imaginators arrives on October 14, for PS4, PS3, Xbox One, Xbox 360, and Wii U.
[Source:-Wired]