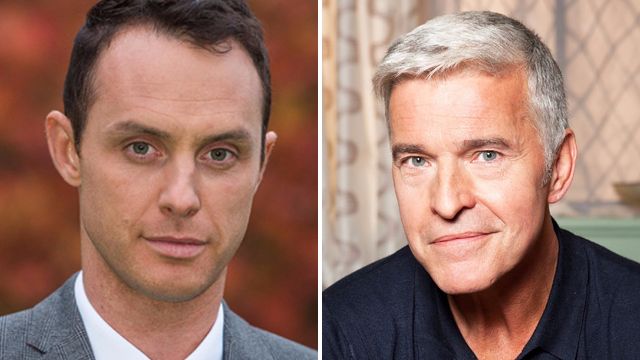 Hollyoaks have launched a dark new storyline for Mac and James Nightingale as it has been revealed that Mac's recent attack on his son was not the first time he had lashed out. 
We saw Mac lose his temper in a ferocious manner when he wrongly assumed that James was behind the chaos at the wedding venue and John Paul was stunned to witness the violent confrontation which ensued.
While James tried to put on a brave front, the assault left him in so much pain that he collapsed as he was being led out of the pub by John Paul. And when Celine told James that John Paul's sight is returning, it dawned on James that John Paul saw more than he realised.
He confided in him that this isn't the first attack and it became clear that the abuse has been going on for a long time. But as John Paul tried desperately to persuade James to tell Marnie, James later got the shock of his life when he found his parents snogging.
Mac had been jilted at his wedding by Neeta after she noticed his bruised knuckles and the collapse of his relationship pushed Mac to seek solace in his ex.
With James feeling trapped, his devastating secret will take its toll on the normally collected lawyer and John Paul's concern for him will grow as he hits the bottle.
But will James find the bravery to speak out about the violence or will he feel too ashamed to reveal what has been happening to him?
And is there a possibility that volatile Mac will lash out again?
[Source:-Metro]