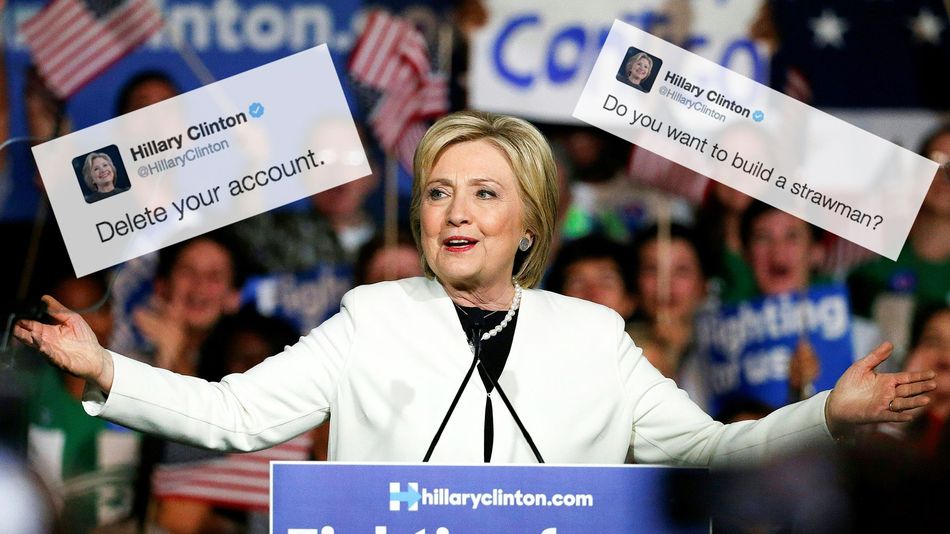 In June, Hillary Clinton's presidential campaign scored one of the sickest election season burns.
Republican presidential nominee Donald J. Trump had just gone after President Barack Obama for backing Clinton in the race. "Obama just endorsed Crooked Hillary. He wants four more years of Obama — but nobody else does!" Trump tweeted.
Five minutes later, the campaign fired off a classic, clever retort: Delete your account.
Twitter went wild. Within an hour it became the campaign's most retweeted post. Some users commented on the barb using fire emoji and that famous gif of Angela Basset walking defiantly from a burning car in the film Waiting to Exhale. In just six weeks, the tweet has gained 636,000 likes and 482,000 retweets.
Jenna Lowenstein, digital director for the Clinton campaign, says the tweet reflects the efforts of a talented staff of writers who love the art of riffing — and know how to cultivate a voice on the internet.
Lowenstein manages the campaign's daily digital operations and a team of more than 100, which includes staffers who develop content and strategy for social media, video, email outreach, audience development, digital organizing, advertising and The Briefing blog. Lowenstein was previously the vice president of digital at Emily's List, a nonprofit organization that works to elect Democratic women running for congress and governor.
Her team has what may seem like an impossible task: alternately playing offense and defense while channeling Clinton's message, competing for users' fickle attention online and translating that into donations, volunteers and voter turnout.
To achieve those goals, says Lowenstein, she knew it wouldn't be enough to make viral internet jokes. Indeed, behind that breakout tweet is a nimble operation that churns content by the hour.
This week alone the campaign launched a Spanish-language website and Twitter account, a Facebook Live of staffers reading the case names of more than 5,500 lawsuits associated with Trump, a Snapchat filter trolling the Republican National Convention and a social media tool called TrumpYourself that allows users to overlay Trump's most controversial statements on their Facebook profile photo.
Daniel Kreiss, associate professor in the School of Media and Journalism at the University of North Carolina at Chapel Hill, says the speed and volume of content production is a notable shift from the 2012 election.
While social media platforms were important then, in the years since even more people have moved away from consuming news through the home pages of traditional news outlets and toward discovering information and commentary through online networks.
"What we're seeing is a shift toward political attention being driven by social sharing processes," Kreiss says. "I think the Clinton campaign is very clearly aware of these new dynamics and has worked very hard to be on many different platforms."
Compared to the Trump campaign, which has a presence on Facebook and Instagram but relies significantly on Twitter to connect with voters and shape the candidate's message, Clinton has had success on less conventional platforms, including Quora and Pinterest.
Yet, the campaign also has a unique challenge: overcoming long-held perceptions of its candidate as impersonal or unethical. Those gaps, say experts, are difficult to bridge even with the strongest social media presence.
"We sort of believe fundamentally people who spend time with Hillary Clinton fall in love with her." 
Liz Mair, a former online communications strategist for presidential candidates Scott Walker and Rick Perry, credits Clinton's staff for savvy use of social media, but says the candidate herself isn't well-suited for the medium.
"She's very buttoned up and conservative in terms of her demeanor," says Mair. "That reads as overly poll tested and inauthentic to people. Anything she does [on social media] will be less effective."
Lowenstein isn't naive about the challenge of changing those perceptions of Clinton.
"We sort of believe fundamentally that people who spend time with Hillary Clinton fall in love with her, but 99.9 percent of Americans don't get that chance," she says. "If we can stick a little bit of Hillary in your day, we want to do that."
When content isn't directly written or assigned by Clinton, Lowenstein's team channels her personality by focusing on their candidate's values, sense of humor and communication style, which is direct and to the point.
During the Republican National Convention, Clinton's Twitter feed regularly sent out rejoinders, like "It's hard to keep track of all of the ignorant and divisive things Trump and Pence have said — so we did it for you," and "You are not our voice, @realDonaldTrump."
But the campaign has also managed to weave in humanizing glimpses of Clinton. A recent Instagram post shows Clinton bowing her head in prayer with ministers at the recent conference of the African Methodist Episcopal Church.
A YouTube video from the primary season (embedded below) shows Clinton comforting a crying girl who is afraid that her parents will be deported. It's since been viewed 829,000 times across YouTube, Facebook and Twitter, according to the campaign.
"They've done a really good job, by and large, in presenting looks at who she is personally," says Nathaniel Lubin, former digital director at The White House and Obama campaign staffer.
Lubin adds, however, that the key to their success will be designing strategy around specific efforts that will directly result in more votes come November. That means focusing on essential tactics like capturing email addresses to raise money over time, and targeting persuadable voters in battleground states with the right message.
Such metrics, says Lowenstein, are key to everything her team produces: "We don't get points for innovation and creativity."
When the campaign used Twitter to ironically echo Ted Cruz's call to "vote your conscience" during his speech at the Republican National Convention, the accompanying link directed users to a form where they could quickly check their voter registration status or sign up to vote. A gif with a bobblehead version of Trump, shared on Twitter, prompts users to donate a dollar for "every time Donald Trump makes you mad."
"It wasn't going to be enough for us to be very good for a political campaign." 
Even the TrumpYourself tool — a smart way to produce user-generated content with an opposition message — captured demographic data and email addresses. By Friday, TrumpYourself.org had been viewed 1.2 million times by 800,000 unique visitors, half of whom imported their photo.
Creating all of this content is a relentless grind, and one Lowenstein manages with a lot of Diet Coke and trying to swim before her first meeting at 7:30 a.m.
But she and her team expected the grueling startup pace from the outset. Winning online, after all, is a ruthless competition.
"It wasn't going to be enough for us to be very good for a political campaign," she says. "If we want our content to break through, it has to be good for the internet."
[source:- Mashable]