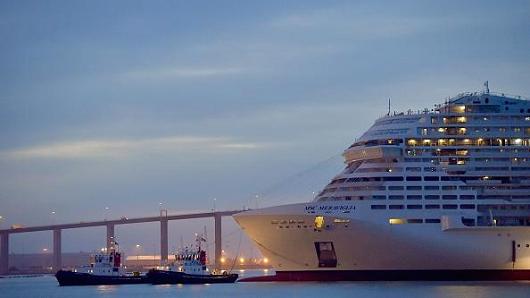 One of the world's biggest cruise ship sailed closer to wining, dining and entertaining passengers on Friday, when the Swiss-owned MSC Meraviglia was floated out to sea in a 12-hour operation.
With space to welcome 5,714 guests aboard, the Meraviglia will be one of the largest cruise ships afloat once it sets sail in June 2017. Royal Caribbean's gargantuan Harmony of the Seas currently holds the title of the world's largest cruise ship, with the capacity to hold more than 6700 passengers total.
Bookings on the Meraviglia already open for a 7-night Mediterranean cruise setting off from Marseille in the first week of the ship's working life. The most modest interior rooms are priced at £699 ($929) for the week, while luxuriating in a Yacht Club room will burn at least a £1,699-sized hole in your wallet.
The Royal Suite is the most extravagant of the Yacht Club rooms, featuring a 700-square foot main room and a 430-square foot balcony pimped-up with a private whirlpool bath and dinner party-sized table. Being in the prime Yacht Club area of the ship means the suite also offers a concierge service, a 24-hour butler and exclusive restaurants, bars and sunbathing space closed off to other passengers.
The vessel is part of MSC's ambitious $10.2 billion investment program and is the first to launch of 11 ships coming into service between 2017 and 2026. It was constructed in the STX France shipyard in Saint-Nazaire and is now in its final waterborne construction phase.
A key attraction in MSC's first at-sea venture is the involvement of Cirque du Soleil, whose artists will perform shows created exclusively for MSC cruises guests.
As well as its sheer size, cruise enthusiasts are interested in the high-tech features built into the ship via a partnership with South Korean electronics giant Samsung.
These include an augmented reality device that can show shoppers what they look like in the designer clothes sold on board without them even trying them on. Smart bracelets will be used to pay for goods — and keep track of your children if they decide to run amok on board or head to the Aqua Park that boasts three giant waterslides.
But could these tech features, or others, such as the 262 foot -LED dome that will create continuous light shows along a Mediterranean-style promenade, detract passengers from the natural attractions of going to sea?
Not according to Pierfrancesco Vago, executive chairman of MSC Cruises, who said "We're turning the idea of 'turning it all off' on its head and enabling our guests to use technology to enhance their life onboard by helping them to better plan their cruise and get the most out of their holiday."
He contended that there would be no bar to guests doing a digital detox, saying "The important point is that guests can choose what information they receive and how much they engage with the technology."
Indeed, Cindy D'Aoust, CEO of Cruise Lines International Association, told CNBC that the latest gadgets were key to many passengers' cruise experiences.
"Technology is important to guests as it provides additional ways to stay connected and personalize the cruising experience," she said via email.
"Cruise ships are now outfitted with some of the most advanced amenities in the travel industry," she added.
According to data from Cruise Market Watch, the number of cruise passengers rose by an annual compound growth rate of 12.6 percent between 1990 and 2015. And the growth looks set to continue, albeit at a slower pace — passengers numbers are seen jumping to 25.3 million in 2019 again 22.3 million in 2015.
However, with pockets of the tourist industry suffering in the wake of terror attacks around European and North African hotspots, concerns have been raised that nervous passengers may prefer to stay ashore.
In emailed comments to CNBC, Jaime Katz, equity analyst at Morningstar said, "Historically, demand has waned temporarily when either a health concern or terrorist incident has occurred, but has rebounded rather quickly, weighing on bookings for only a few weeks."
He highlighted other factors that were more likely to impact numbers, saying "Demand is more closely tied to economic performance during that particular period than geopolitical headlines."
Katz concluded that part of the beauty of a ship was its ability to locate away from places perceived as less desirable to visit.
"Overall, we don't think the impact from the spate of terrorist attacks will permanently affect demand potential over the long term. If it were (to), however, we believe the cruise industry has the unique opportunity to reallocate its hardware to other geographies that would yield more promising returns."
[Source:-CNBC]