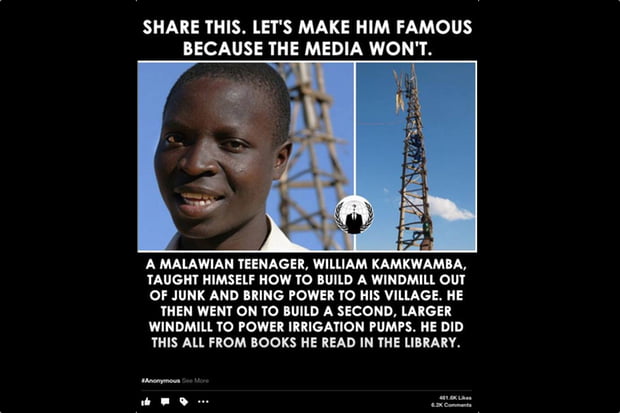 It's a safe bet that any post starting 'What the mainstream media won't tell you', or words to that effect, will refer to something that has in fact been extensively reported in the 'MSM'. And so it is here. I'm reproducing this Anonymous meme because a lovely Facebook friend of mine posted it, and it struck me that this is how many lies are spread on social media: scheming ratbags taking advantage of decent people's better natures. After all, from what Anonymous say about William Kamkwamba he sounds great, so let's sabotage the media conspiracy of silence by sharing his story.
Kamkwamba is indeed an inspiring young man; he deserves better than to be kidnapped by a mendacious meme. He has in fact been widely publicised (and praised) in the international media since news of his achievements was first reported in Malawi 10 years ago. TheWall St Journal was profiling him as early as 2007, his autobiography was a New York Times best-seller in 2010 and is still Amazon UK's No 1 best-seller in Energy & Engineering six years after publication, he has given Ted talks and been interviewed by Jon Stewart on The Daily Show, a prize-winning TV documentary was made about him,Time magazine named him in December 2013 as one of 'the 30 People Under 30 Changing The World', et cetera, et cetera. The suggestion that the media have conspired to stop the world hearing about him is a lie, one of those falsehoods that pose as heroic truth-telling and rely on the credulity of social media.
People wanting to know the truth about William Kamkwamba should read his book 'The Boy Who Harnessed the Wind'. But here's a problem for them: the book is issued in the US and UK by Rupert Murdoch's HarperCollins. Yes, a hated MSM mogul was publishing Kamkwamba years before the Anonymous creeps (whose Facebook page reads like David Icke on crack) noticed the windmill boy and decided to exploit him for their own post-factual conspiracist purposes.
[Source:-The Spectator]