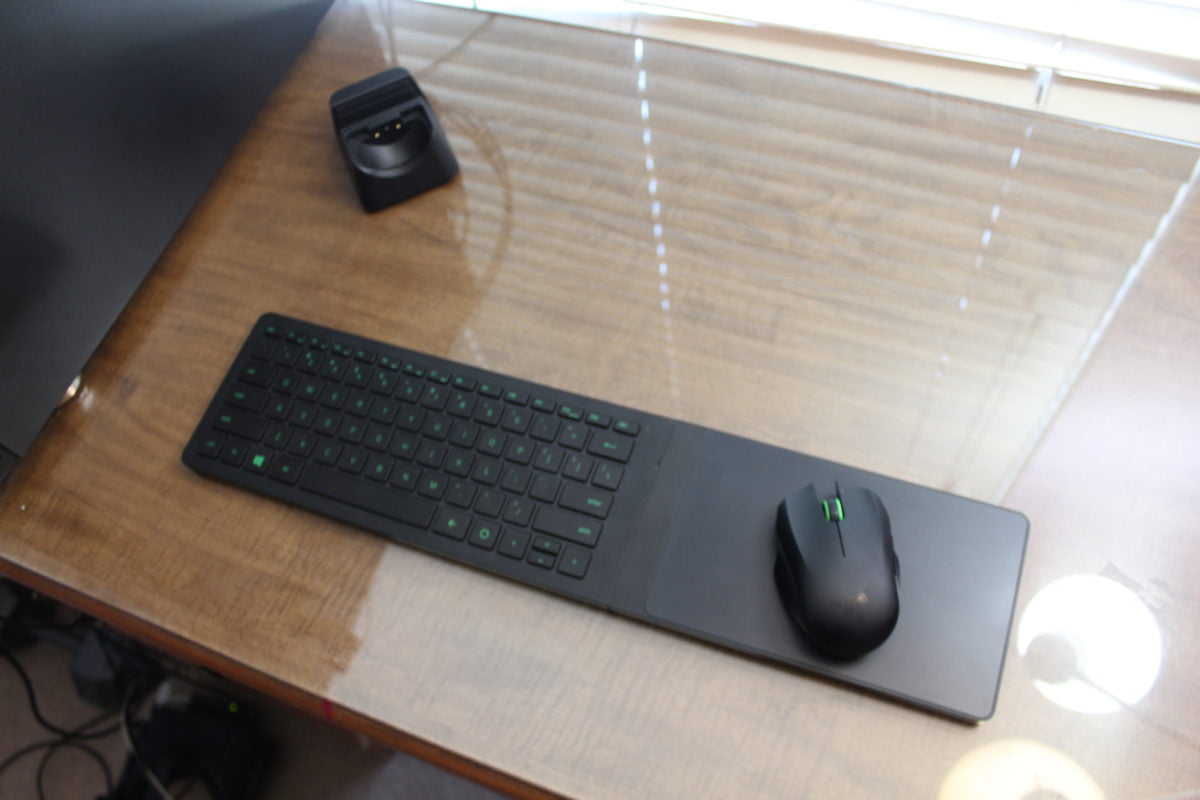 You have a ton of options when it comes to playing PC games on your television, but I still think nothing beats a mouse and keyboard.
PC-gaming product manufacturer Razer has a new keyboard-and-mouse combination for your lap, the Turret. It is available now for $160. This setup features a wireless 2.4Ghz (and Bluetooth) gaming mouse and keyboard along with a charging dock that houses both devices when they're not in use. The keyboard also comes equipped with a fold-out mouse pad with a surface specifically designed for the Turret mouse.
I've put in dozens of hours with the Turret, and I've found a lot to like.
What you'll like
Great for TV gaming
I've always preferred using a gamepad when playing games on a television. Sitting back with a controller was way easier, and that trumped any of the benefits of using a mouse and keyboard.
The Turret changed my mind. This keyboard-and-mouse combination is comfortable and features high-quality components. I recently spent an entire Sunday plowing through mud and rivers in the truck-simulator game Spintires on my PC. But instead of secluding myself in my office or burying my nose in a laptop, I plunked down on the floor and played using the Turret.
The Razer device worked well on my lap or if I put it down on a table. When it is on my lap, I'm always impressed by how natural my arm position feels when I have my hands on the mouse and WASD keys (may PC games use these for basic controls). Something about the Turret's width makes it so my body always finds an ergonomic position.
Battery life is great
Since the Turret is wireless, you'll need to rely on battery power. Thankfully, the mouse and keyboard seem to last forever. In my testing, these never ran out of juice. Even when I forgot to charge the mouse for six days — each with some long Overwatch sessions — I never ran out of energy.
Dock works well
Having the dock also means you don't have to worry about power most of the time because you can pop the keyboard and mouse back where they belong when you're finished for the day. If you always do that, your Turret should always have full power every time you go to grab them for the next round. You'll never really think about the battery because of this.
What you won't like
The mouse doesn't work well on certain other surfaces
While the Turret mouse works well on the built-in pad, it has gliding plastic material that tends to create more friction with a lot of other surfaces. The Turret mouse kept getting caught on my professional gaming-surface mouse pad from Monoprice. This means you're kinda stuck using the mouse with the keyboard.
Attracts a lot of dust
The underside of the mouse is always dirty for me. The gliding material attracts all kinds of dust that is difficult to get out without getting serious about cleaning. That's not a big deal to me, because it never interfered with gameplay, but I still found it annoying.
Conclusion
The Razer Turret works well in a lot of really specific circumstances. If you want a keyboard-and-mouse set that'll make playing certain games easier on a TV, this is a comfortable, high-quality solution.
It could serve as a decent wireless keyboard and mouse for your desktop setup as well — although you'll start running into barriers if you want to swap out the built-in mouse pad for something roomier.
I, however, am happy to keep it docked next to my TV any time I want to fire up Civilization V or Invisible, Inc. in the family room.
Razer's Turret is available now for $149.99. The company sent us a sample unit for the purposes of this review.
[Source:- VB]